Monday 21st -25th January – Norfolk Winter Birding Tour
Day One 21st January – A day of Owls & Geese!
We started this winter tour on a cold frosty morning near locally near Bintree Mill and were soon enjoying 2 Barn Owls, the second Barn owl was watched hunting down a ride, just lovely to watch. We then headed to another spot nearby where we were able to enjoy another Owl! This time a very cute looking, day roosting Tawny Owl. There was also Mistle Thrush and Great Spotted Woodpecker in this area. We next visited a nearby farmland area, with a great bird cover strip, this hosted a lovely flock of c250 Linnets, 30+ Chaffinch and a few Brambling.
We then headed up to the coast, stopping off on the way near Wells for a nice flock of Lapwing, which also held 1-2 Ruff, there were also some smart Grey Partridges in the field.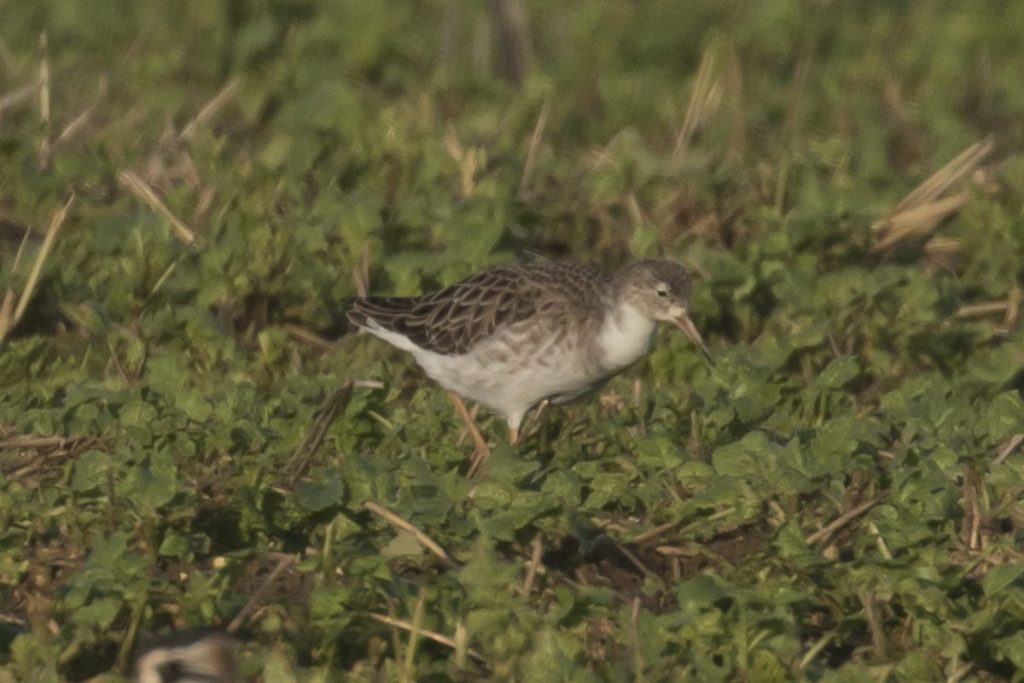 We headed to Stiffkey Fen, a short walk and we were soon enjoying nice close views of 4 Marsh Harriers, with some early season territorial behaviour. As we walked 2-3 Bullfinches popped up, including a smart male. A Cetti's Warbler stuttered several times but refused to show.
Viewing out on the salt marsh was a little hampered by a band of fog. But we did have lovely views of Brent Geese, Black-tailed Godwits, Redshank, Shelduck, Wigeon, Teal and Shoveler.
On the walk back, we enjoyed amazing views of a group of Bearded Tits, several eventually showing brilliantly sitting out along the reed edge, even allowing us to grab some pics.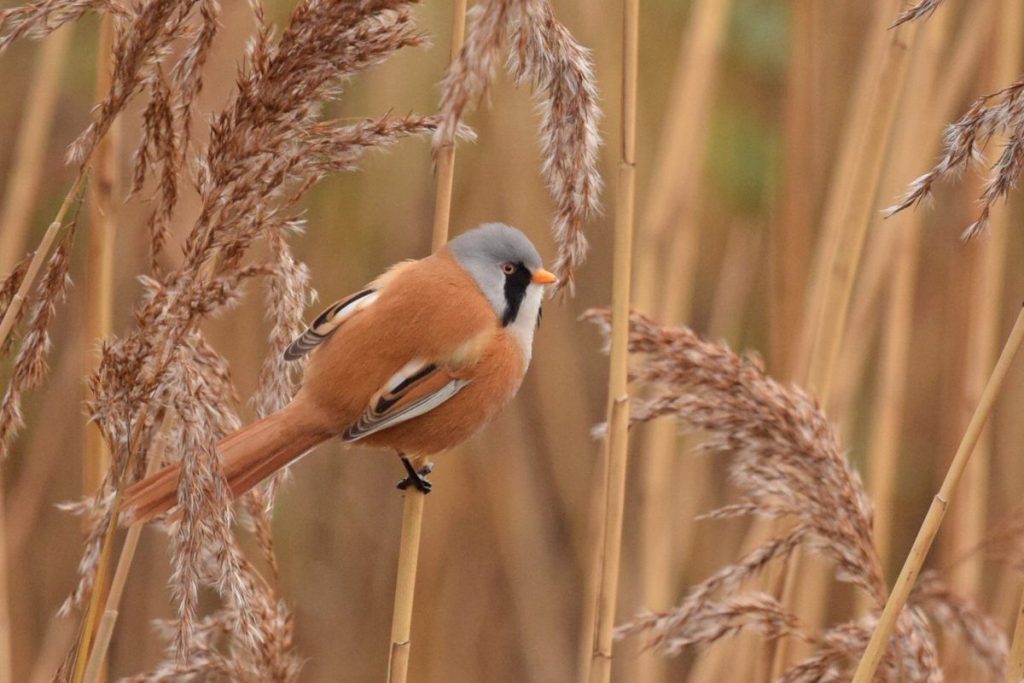 It was cold frosty day & a 30 minute coffee stop in Wells, warmed us all up, before heading to Holkham. We just did a couple of roadside stops today, another Barn Owl was out hunting. We then enjoyed lovely views of c70 White-fronted Geese, plus 6-7000 Pink-footed Geese, lovely skeins overhead and we were also entertained by displaying Egyptian Geese. Out on the marsh we found 2 Great White Egrets and both Marsh Harriers plus Red Kite.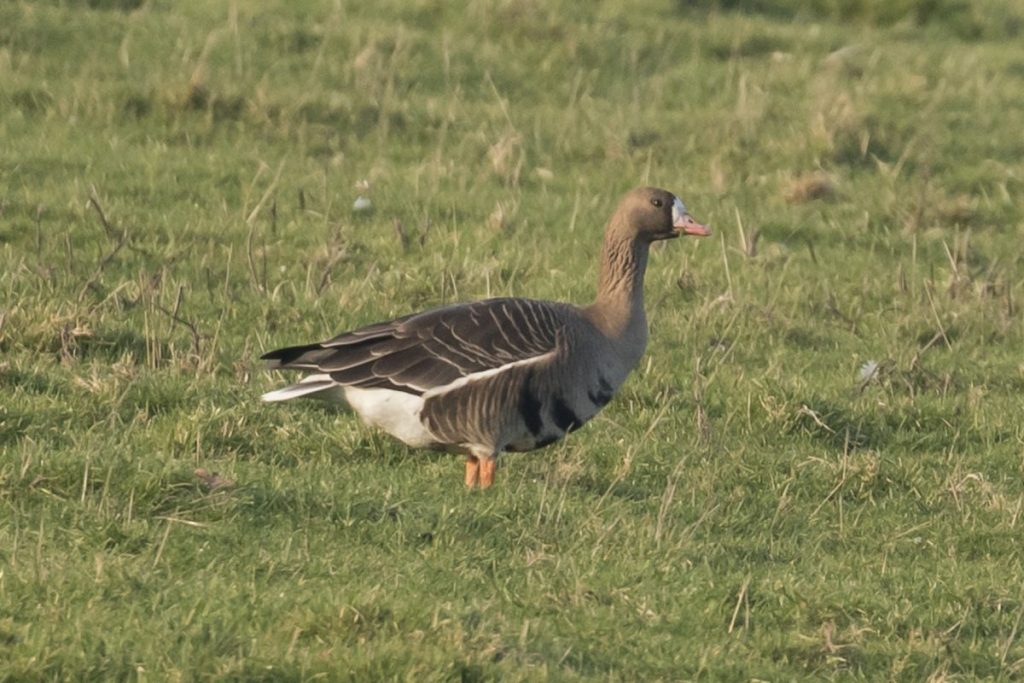 We rounded off a great day with the Titchwell roost 40+ Marsh Harriers, 3 ringtail Hen Harriers & 50 Little Egrets. On the way home we finished off with another Barn Owl– our 4th of the day!
Day Two 22nd January – Great day in the Broads of wildfowl & Cranes
We started the day at Filby Bridge in The Broads National Park, we were soon watching two very smart redhead Smew, as well as a long-staying Red-necked Grebe, there was a nice group of Great Crested Grebe here too, some just gaining their summer plumage. Most welcome was the electric flash of blue as a Kingfisher flashed by and perched up for further admiration!
Several Marsh harriers were also noted and Marsh tits & Great Spotted Woodpecker were calling nearby.
We then headed towards Stalham and not far from here we were able to enjoy a nice group of "wild swans", a nice group with 74 Bewick's & 10 Whooper Swans.
We then headed to the idyllic lunch stop – the viewpoint and boardwalk at Barton Broad. Whilst eating lunch we slowly saw a lovely mixture of wildfowl, 30 Goldeneye, 150 Tufted Duck, Teal, Shoveler, Cormorant, 120 Coot a disturbance suddenly caused a lot of duck to emerge from a channel and amongst big flotilla was the Long-tailed Duck, plus a nice surprise 2 female Scaup.
We rounded the day off at Stubbs Mill on arrival we came across a nice flock of Fieldfare showing beautifully in the afternoon sunshine. The day ended with a nice roost of 37 Marsh Harriers, 1 grey male Hen Harrier, 7 Cranes, a brief Brambling plus a several skeins of Pink-footed Geese and lots of Lapwing and Golden Plover plus 12 Bewicks Swans heading off to roost.
Cranes heading off to roost.
Day Three 23rd January – Crossbills, Hawfinches, Goshawks and Shrikes!!

We started the day in the North Brecks, it was cold and grey! The birding started pretty slowly, and in the first couple of hours the real highlight was a lovely flock of c100 Yellowhammer in a cover strip, mixed with Skylarks, Linnets and Chaffinch. We also noted a few Redwing, Fieldfare, and 1-2 Brambling and Siskin. These were to be surpassed later in the day!
We then headed to Lynford the lake held Gadwall, Tufted Duck, Great Crested Grebe but 2 Goosander seen earlier had disappeared. But we were soon feasting our eyes on a carpet of c100 Brambling, mixed with plenty of Chaffinch. We then headed further into the arboretum, where 2 Hawfinches were perched atop the hornbeams, this enigmatic species are always a great sight and these were being thoroughly enjoyed when 3 Crossbills flew over. Fortunately the Crossbills were located and eventually a super red male and 2 females came down to a pool to drink, perching up on a dead tree for quite some time and giving stunning views, such great birds and the Hawfinches were relegated for a while! We also enjoyed lovely views of an array of 'tits' coming to the feed area, Blue, Great, Coal, Long-tailed & the very neat looking Marsh tits. Plus good looks at Nuthatch, 2 Treecreeper and Goldcrests.
There was also a nice selection of Thrushes, with Fieldfare, Redwing, Mistle and Song Thrush all being seen. Plus a small party of Siskin and Goldfinch.
Having had a great morning we headed off for lunch. On pulling up at a raptor watchpoint we were in luck! A young Goshawk was sat atop a tree and gave great scope views before dropping into the canopy after being dislodged by a second territorial male, Goshawk! From here we also noted several Buzzards, a pair of Sparrowhawks and one Red Kite.
We then shot down to Santon Warren, and were fortunate to arrive just in time to enjoy a super Great Grey Shrike that had been seen on and off in the morning. It was sat low down in a hawthorn and we had great scope views before it dropped out of view. Nearby we were able to enjoy more Brambling plus a nice flock of c60 Siskin.
We rounded the day off back looking at the Hawfinches and had really nice views on arrival of 4 Hawfinches perched and one flying over.
We thought a great day had finished but en-route back we were treated to a wonderful Starling murmuration of 30,000 birds over Swaffham!
Day four 24th January – Waders, geese, raptors and Owls
We had an early start and I collected the group at 7am and we arrived at Snettisham on a cold frosty morning, with a beautiful sunrise. We stopped briefly on the way to enjoy a perched Barn owl
We were soon standing in wonders as first large skeins of Pink-footed Geese passed overhead. Next up on the the High tide show, was tens of thousands of Knot, shortly followed by 2000 Oystercatchers, large waves of birds, some passing right overhead! A real mesmerising performance, the sights and sounds a pleasure to both the eyes and the ears.
Beyond the masses of birds, were of course raptors, Buzzards, Marsh Harriers and we had the pleasure of a hunting Peregrine and a perched Merlin.
We walked to the hide to get close views of the cross of Knot and Oystercatcher and a Spoonbill was a nice winter surprise flying over and then roosting out on the salt-marsh. From the hide we enjoyed a closed moving mass of Knot, plus lots of wildfowl including Wigeon Teal, Shelduck, Tufted Duck and some beautiful displaying Goldeneye.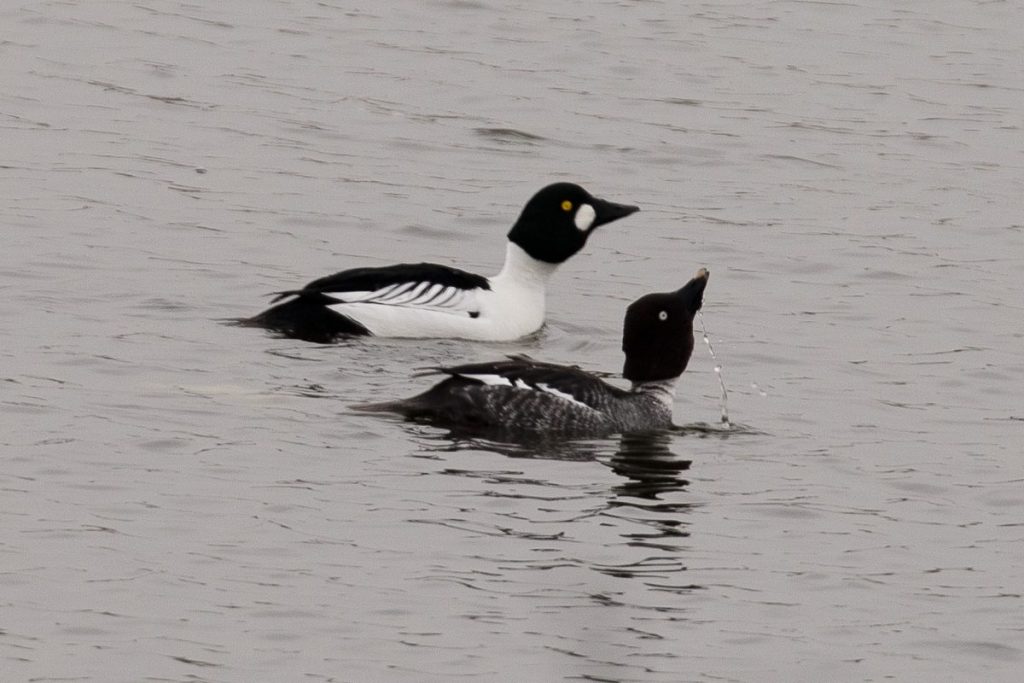 Out on The Wash now there were much closer in now were feeding Dunlin, Redshank, Bar-tailed Godwit, Grey and Golden Plover
We rounded off the visit with great scope views of a roosting Short-eared Owl.
We had our lunch at Hunstanton, from here w watched the Fulmars on the cliffs, and enjoyed several Red-breasted Merganser and Guillemot out on the sea,
We then headed inland to Ringstead area and fortunately a nice group of 21 Corn Bunting were still present, feeding alongside Yellowhammers. Not faraway we were also treated to a lovely wintering finch flock of c250 Linnet, c100 Chaffinch, 1 Brambling and 25 Goldfinch.
We rounded the day off with a raptor roost. Fortune favoured us as we arrived a male Hen harrier, passed by shortly followed by 2 Barn Owl, we also had 2 ringtail Hen Harriers and a distant perched Merlin. A great day!
Day Five 25th January – Rough-legged Buzzard, Water Pipits and Snow Buntings
We started the day at Holkham and arrived to masses of Pink-footed Geese, which we enjoyed before heading out on to the beach and salt marsh. We headed to the cordoned area nd soon found a nice flock of around 60 Snow buntings, we enjoyed first great scope views and then amazing close views as the flock landed just metres away and showed beautifully right in front of us busily feeding on the strandline seeds. Nearby there was several Scandinavian Rock Pipits, but no sign of the Shorelarks.
We then headed out on to the beach, out on the sea there was a nice flock of Wigeon close inshore, plus several Red-throated Divers flew past. After a bit of scanning a nice drake Velvet Scoter flew east and a small group of Common Scoter were found bobbing around distantly. There was also several Great Crested Grebe, plus brief views of a smaller grebe probably Red-necked but just a bit too far out on a rough sea for to be definite.
We stopped off at a viewpoint and managed to get scope views of 2 Great White Egrets, plus a small number of Russian White-froted geese, there was also at least 10 Marsh Harriers and 4 Red Kites.
We had a nice selection of birds on a circular walk around the beach, including a group of Brents, containing one of the hybrid Black Brant
We next headed over to Choseley area where we were just in time to see the Rough-legged Buzzard, perched along the hedgerows there before it took flight and moved off North.
After lunch, we rounded the last day off with a couple of hours at Titchwell with a lovely selection of wildfowl plus 2 Water Pipits and point blank views of a Water Rail.