High tide Tours in Norfolk
High tide tours are available as a single day tour usually once or twice a year and also as an integrated part of a three or five day group tour. The tours including a High tide spectacular are noted in the tour description.
The high tides are an amazing and incredible spectacle with ten and sometimes hundreds of thousands of shorebirds gathering in a narrow area of the SW corner of The Wash at RSPB Snettisham. The vast majority of birds will be Red Knot (120,000 October 2020!), plus thousands of Bar-tailed Godwit, Oystercatcher, Dunlin and hundreds of Redshank and Curlew, plus masses of other wildfowl.
The very highest tides see the shorebirds fly on to the gravel pits, this is probably the greatest spectacle when thousands are packed together in masses close to observers and the hides. The great spectacle is as they leave this refuge usually 2-3 hours after the highest point of the tide.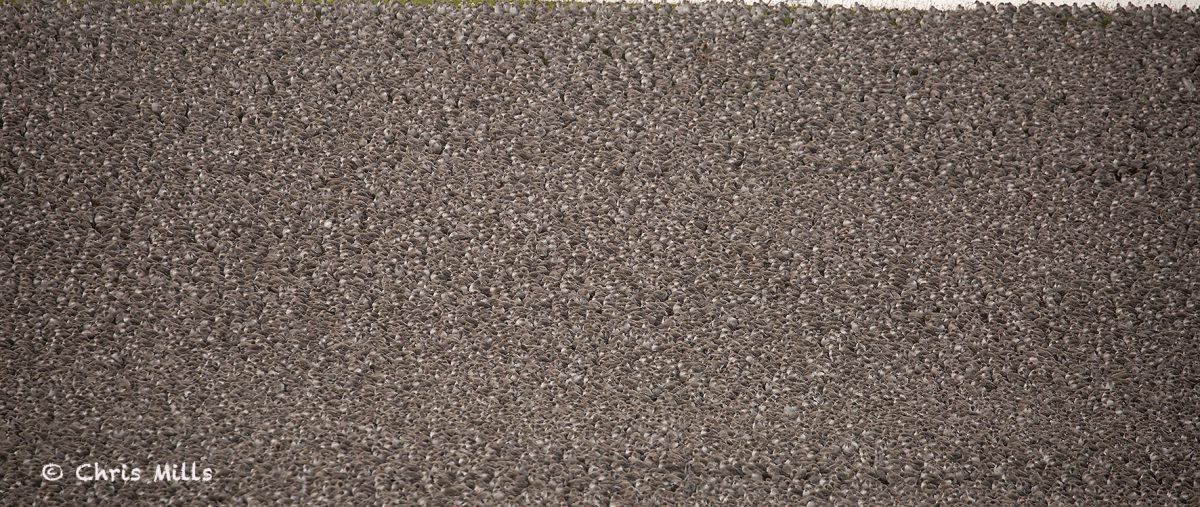 The highest tides are affected by the direction and strength of wind, so it's difficult to predict if birds will make it onto the gravel pits. Though even gatherings out on the saltmarsh are still extremely entertaining and you will still see huge flocks, with 'mexican waves' appearing in the skies as the birds are disturbed by hunting raptors.
October and November are the best months for the biggest numbers of shore birds, December and early January for a combination of shorebirds and Pink-footed Geese. There are still spectacles and large numbers to be had from August to September and again February to April, when often the light can be really good.
Norfolk High Tide Tours 2021
SEPTEMBER 21st-23rd   NORFOLK 3 day/3night Tour, migrants waders and shorebirds plus a HIGH TIDE SPECTACULAR
OCTOBER 10th NORFOLK  A HIGH TIDE SPECTACULAR day tour.       One of the highest tides of the year!
OCTOBER 25-27th 3 day/3night Tour, 3 day NORFOLK Teachers week - Migration and Scarce birds tour
NOVEMBER 5-7th  NORFOLK 3 day tour migration, wildfowl & HIGH TIDE SPECTACULAR
Single day tour cost from £60.00
3 Day/3 nights Tour cost from £360.00