February 11th 2019 Norfolk An Exclusive Day Tour in The Brecks
A beautiful day in The Breckland area with Goshawks, the first singing Woodlark, Hawfinch, Bramblings, Crossbill and a delightful encounter with 2 Otters!
I met up with Bob in Swaffham at 9am for an exclusive days guided birding. We started the day South of Swaffham and were soon enjoying a flock of Yellowhammers feeding and perching up in a hedgerow. A Sparrowhawk whizzed by and our attention was soon distracted by my first singing Woodlark of the year. The bird was in full virtuoso, high in the sky, what I wasn't expecting was another Woodlark to drop down calling and land in the stubble a few feet away! A lovely start to the day, there was a few Fieldfare nearby but it was brightening nicely and it made sense to head off and look for raptors!
We were soon at a regular watchpoint, there was a few other birders who had also expected plenty of activity and on a bright, breezy morning. We weren't to be disappointed, as on arrival a superb clean grey adult male Goshawk gave lovely flight views moving right to left at just over the tree tops. He disappeared from view only to reappear and come back the opposite way, causing the local Woodpigeons to scatter.
We then had a pair of Sparrowhawks up, shortly followed by 6+ Buzzards all in a spiral, but we were soon locked on to another second Goshawk, though this time a little further away, this time an imm male Goshawk. We had on and off views for a little time and very satisfied we decided to head off.
Our next location was Santon Downham. We on arrival enjoyed stunning views of Brambling, plus really nice views of Nuthatch, Siskin, Goldfinch, Marsh Tit and Coal Tit. Nearby on the river we also enjoyed a lovely perched Kingfisher too!
We then headed off to look for two more much more difficult targets, Lesser Spotted Woodpecker and the Great grey Shrike we saw last week, neither today were to be seen or heard! However, out walk along the river was truly rewarded, but on on a mammal rather than avian level. A few people had mentioned that 2 Otters were showing well downstream, so we headed on in their direction. Initially they had moved on from where they had been seen earlier, but fortunately we caught up with them. Nothing could have prepared us for the views we got, a mother and a cub Otter, in the water swimming together, then out of the water on the bank, just 10m away at one point – a truly fantastic experience!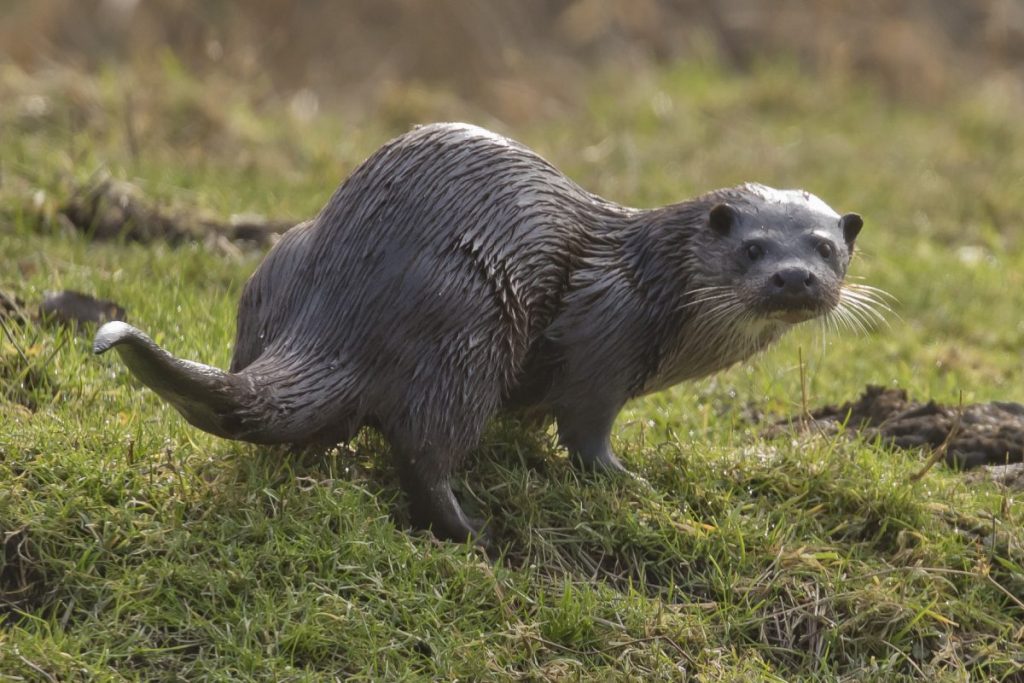 After a very pleasant lunch in the weak winter sunshine, we headed off to Lynford area. We had only walked a few metres when I was pretty sure I could hear a Firecrest.…a few minute later the Firecrest was singing properly and after a bit of searching we realised it was low down in the bush in front of us, and it posed beautifully both for great views and the camera!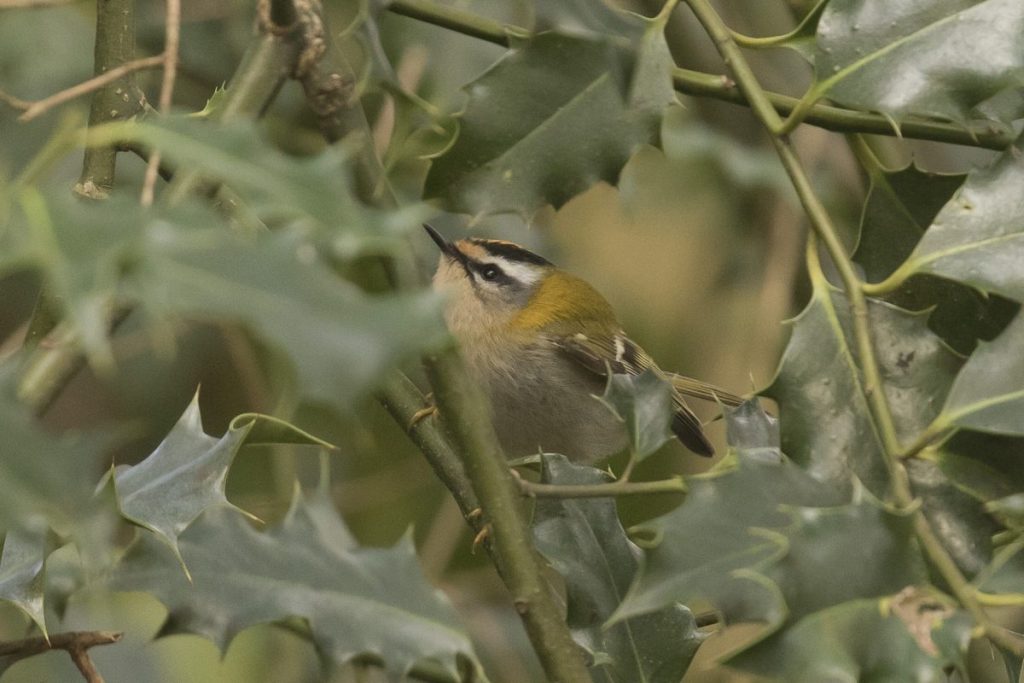 We headed on and our fortune continued with lovely scope views of 9-10 Hawfinch feeding on the ground, we swooned over these for a while! Nearby there was Mistle thrush and Redwing. Then we heard and saw 2 Crossbills flying over, sadly for Bob they were high and disappeared distantly as dots against the sky. We hung around, as I was hopeful that the Crossbills might return as I had seen them coming to drink a couple of weeks previously. We enjoyed lovely views of Marsh Tit, Treecreeper and Long-tailed tits in the interim.
It's great when a plan works! I just caught the "clip" call of a Crossbill, looked up and a really beautiful female, green and gold, was sat on top of the nearby alders, she stayed long enough for Bob, to get his first ever views of these unusual and charismatic species.
We headed back to the minibus, stopping off in Swaffham to enjoy the dusk murmuration of 20,000 Starlings!