22nd February Day Two of three – Norfolk Winter Birding tour
Another rough day of v windy weather! However at least the sun came out today! We headed East to our first location, Halvergate marshes, where a friend Pete was stood waiting our arrival. His eyes fixed firmly on where a Short-eared Owl had just landed, unfortunately now out of view. Eventually after searching for a few minutes, the Short-eared Owl located sitting squat on the ground. After scoping it for several minutes and watching the beautiful facial disc and eyes, it took to the air battling in the near gale force wind.
We next headed to the Acle area and were pleased to find the Cranes, yet again present in the same fields & close today! Just 5 birds today but nice and close and an opportunity to get some pictures.
We also had good views of a nearby Chinese Water Deer in the same field.
The next stop was near Ludham where the last few wintering Swans were still present, just 8 Whooper Swans, we enjoyed nice views from the minibus without disturbing them.
We then headed on to Potter Heigham, after a short walk we were soon looking at the 2 Cattle Egrets present, feeding as expected at the feet of the cows.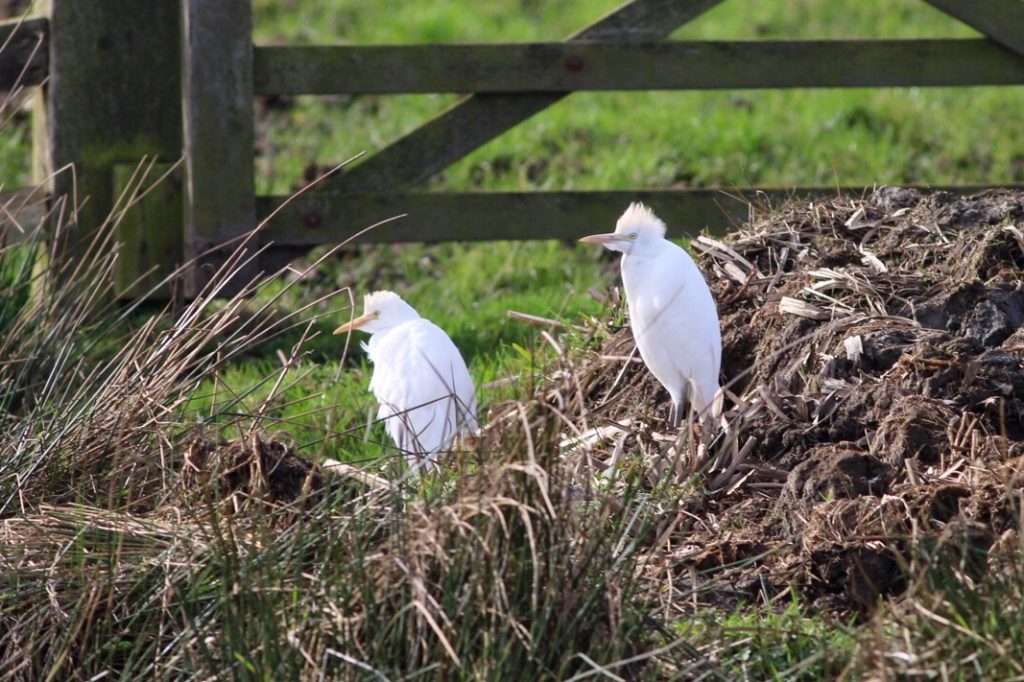 We took a break with coffee and cake in the local cafe and then headed on to Potter Heigham Marshes. There was just one brief view of a Water Pipit, flying over calling, but the pools held lots of wildfowl, Teal, Wigeon, plus a few Tufted Duck and Pochard, these sent scattering into the air by a passing Marsh Harrier. Distantly we had 150 Russian White-fronted Geese in flight but they disappeared once they landed behind the reeds.
We rounded the day off at Hickling, on the walk out there was a great number of duck on the newly flooded areas, 100+ Gadwall, 60+ Shoveler, 200+ Wigeon, 300+ Teal & c50 Shelduck.
From the watchpoint, we had a really nice last hour, with 2 Barn Owls, a Merlin racing past, a distantly perched Peregrine, c30 Marsh Harrier, a pair of Stonechat.