Uists Scottish Birdwatching Tour – 3rd June – 10th June 2023
Uists Tour – 3rd June – 10th June 2023. Tour leader – Chris Mills Norfolk Birding
Participants:- Seán Dempster, David du Croz, Peter & Deborah Ibbotson, Adrian Roach & Paul Woodham.
White-tailed Eagle – seen almost daily during our tour!
Accommodation
The tour was based on 5 star self-catering accommodation and 4 star Bed & Breakfast. The accommodation on North Uist is extra special! A fantastic architect designed & re-fitted house with amazing moorland & machair views to the sea. It has a large lounge, diner & kitchen area with 2 fridge freezers and 4 en-suite rooms at ground floor plus 2 twin rooms with dedicated bathroom at first floor. Further details can be seen by visiting http://www.clachanlodge.com/ClachanLodge-Gallery.htm
Food
Whilst on North Uist we visited the Supermarket on North Uist & bought breakfast provisions & foods for making up packed lunches.
We ate out on four evenings at three different pubs/restaurants.
On one of the evenings we cooked and ate at the accommodation and on the final evening we picked up take out fish and chips.
Transport to and from Scotland
Transport was from an agreed meeting point near Junction 25 of the M1 and North with an overnight stay in Glasgow, prior to the ferry journey on to the Uists.
Transport was via our 9 seater minibus, so there was ample space for luggage, scopes & cameras etc.
Day 1 Saturday 3rd June
I collected several of the group from Nottinghamshire and we met up with the rest of the group in Glasgow at Stepps, Premier Inn.
We had an enjoyable evening meal and then headed off for an early night, ready for leaving early the next morning at 2.45am, due to the cancellation of our ferry by Calamc, 48 hours before the tour from Maillaig, we were forced to travel all the way to Uig, Skye for the 9.30am ferry to Lochmaddy.
Overnight Premier Inn North west Glasgow.
Evening meal in restaurant at Premier inn.
Day 2 Sunday 4th June
We left Glasgow at 2.45am in cloud that eventually gave way to fine bright sunny spells. We had a long journey ahead of us up to Uig ferry terminal on Skye. We hadn't been going too long when I noticed a Barn Owl hunting the verges as we passed along the edge of Loch Lomond, a lovely start.
The journey passes through some spectacular mountain scenery and a few birds were noted en-route from the minibus – Hooded Crow, Buzzard plus Willow Warblers could be heard singing from most bushes. Just South of Skye we stopped for an Otter, just offshore of a Loch, it surfaced a couple of times but moved quickly, sadly away from us.
We then headed onwards for Skye, a large raptor was spied soaring over a hillside and we pulled over the "big" raptor was indeed a White-tailed Eagle. Although the bird was high, it was obvious, with the short tail and big plank like wings. Everyone got their first views of these superb raptors.
Another stop gave us a flyover Lesser Redpoll and several of the first ubiquitous Meadow Pipits.
We eventually pulled in at Uig harbour well ahead of schedule and had around an hour before the ferry was due to leave, so plenty of time to scan the harbour area etc. Our first Black Guillemot were just off the quayside, there was also a few Eider, several Hooded Crow were on the rocky shore, a very close Ringed Plover and a few Red-breasted Merganser were also out on the sea. The excitement hadn't finished though as another White-tailed Eagle moved overhead!
The ferry arrived and boarded on time, and we were soon heading for Lochmaddy and North Uist. The ferry crossing was very calm, and we took up our positions on the starboard covered area.
The crossing provided a good selection of birds, good numbers of Puffin, Guillemot & Razorbill, plus smaller number of Black Guillemots. Gannets were noted close, plus a few Arctic and Common Terns also Shag, Cormorant, Eider and Red-breasted Merganser. As the ferry headed out into deeper waters, some of the more sought after birds appeared. Several groups of Kittiwake, Gannets, single Arctic and Great Skua, a few Fulmar and eventually a we had nice views of 2-3 Manx Shearwater.
The ferry arrived at Lochmaddy in beautiful clear blue skies. We headed off to the Coop store to buy provisions for breakfast and packed lunches.
The supermarkets are generally well stocked, and we got everything we needed.
En-route we had our first views of asuper hunting Short-eared Owl, plus a stop for several nice Wheatears and 3-4 Twite.
We then settled into our fantastic accommodation, offloaded the luggage and got everyone into their rooms, followed by cups of tea and an admiration of the view and the birds from the curtain glass walling in the lounge area. It had a been long time since we left Glasgow in the small hours, and a long day, so everyone chilled or stood out in the garden and visible from the lodge were calling and displaying Lapwing, Oystercatcher, Redshank, Dunlin and Snipe.
We set out early evening for a meal at Lochmaddy restaurant and it wasn't too long before we were getting super views of the first of three Short-eared Owl!
As we drove back, we saw Short-eared Owls again and a nice close Cuckoo.
Overnight Self Catering Cottage – Clachan Bay, North Uist
Evening Meal in Lochmaddy restaurant
Day 3 Monday 5th June
The weather forecast was very good for today, so I suggested we start reasonably early and head out to try and see Corncrakes. At 6.30am we had tea and biscuits, then we headed out.
It is always a wonderful experience along the Uists lanes, breeding waders abound, and we stopped several times to let waders and young get out of the road and back to their noisy, concerned parents!
We headed straight to the areas where I had seen Corncrakes previously. Our journey was interrupted several times! First a Short-eared Owl, another and then another!
We arrived at my favoured spot at Balranald. We could soon hear the Corncrakes delivering their highly audible '"crex, crex" call! There was one close to the left of the minibus and another to the right side!
It took a little time, as we watched and listened from the minibus with windows and doors open, but after a bit of scanning, the head of a Corncrake was showing intermittently! After a lot of directions and a bit of effort, everyone got on to the Corncrake as it appeared and disappeared.
The Uists are amazing for breeding waders and we got out to enjoy the chorus of Snipe, Redshank, Oystercatcher Lapwing, Dunlin, Ringed Plover all present in very good numbers, the air filled with their calls! The amusing thing came as we watched the waders! After keeping everyone very quiet and in the minibus to see the first Corncrake, there was now a second Corncrake clean out and close, in an open area and everyone was able to get a very good looks and pictures!
After a couple of hours, we had heard 4+ Corncrake and we had enjoyed the wonderful drumming and singing of Snipe overhead. With Snipe and Redshank sitting on posts – this was an experience never to forget!
We then checked the nearby pools, and there was a Wigeon, Shoveler, Tufted Duck and Little Grebe. Very satisfied we headed back for a leisurely breakfast back at the accommodation.
After breakfast we headed out on to the Loch Portain road, making several stops to scan. We had several Common Sandpiper, 2 Shelduck, a nice summer plumaged Red-throated Diver was on one of the Lochs, 4+ Buzzard, 6+ Raven, 4+ Hooded Crow, numerous Meadow Pipit and lovely views of Stonechats and Wheatears.
We stopped off at a favoured watchpoint towards the end of the road and had nice views of 2 Arctic Skua, we also had 2 Golden Eagles but distant and rather unsatisfactory views despite trying to drive closer to them, as the seem to just disappear!
Down at the end of the Portain road, there are fine views out to sea and Black Guillemot, Shags and a Cuckoo appeared, several Stonechat were perched roadside, a couple of Wheatears, plus 2-3 Twite were perched up and showed well up on roadside wires.
We then headed to the Committee Road and were rewarded instantly with a high male Hen Harrier, hunting above the woodland. Up at the top of the hillside we didn't have to wait long before another Hen Harrier, again a male appeared, it was fairly close and we were treated to a wonderful interchange with a female Hen Harrier, as it greeted the male carrying back prey. We stood for some time admiring the male Hen Harrier, as it was perched nearby, distracted from time to time by a nearby hunting Short-eared Owl.
It was mid-afternoon and quite warm now, so I headed over to Griminis harbour area, there was a nice breeze and the far shoreline held a nice flock of around c120 Bar-tailed Godwit, all in none breeding plumage presumably 2cy birds, also 5 Red Knot were late migrants. Also some fishing Little terns, some Common Terns, Red-breasted Merganser and Common Eider, rounded off an excellent first full day!
We finished the day with a meal at Lochmaddy Hotel, North Uist.
Overnight Self Catering Cottage – Clachan Bay, North Uist
Above – Corncrake – eventually this one showed very well!
Below – Common Snipe – wonderful views of these birds
Ringed Plover – stunning close views
Short-eared Owl – a good year for this species, seen daily.
Day 4 Tuesday 6th June
Today we headed South, stopping off at the Southern end of North Uist to check the Lochs adjacent to the Lochmaddy road.
After a few stops we were able to enjoy a lovely breeding plumage Red-throated Diver, plus a Short-eared Owl and another stop for another male Hen Harrier. From here we continued South and arrived at a Loch on Benbecula. A Ruff appeared, there was plenty of Lapwing, Dunlin, Snipe and Redshank, plus 2-3 Teal but no sign of any Red-necked Phalaropes.
We headed off down one of the valleys in the East side of Benbecula, and scanned the sea cliffs, it was relatively quiet for raptors, a single Kestrel and yet another Short-eared Owl appeared, clearly having a good year! From here we also had several Black Guillemots, Shag, Red-breasted Merganser, plus a lovely family group of Wheatears, with the adults back and forth feeding a couple of fledged youngsters, a delight to see.
Next a stop at Loch Coot! So aptly named as this is about the only place you can see Coots on the Uists, we were soon admiring 2-3 Coot and 2 Moorhens! Also, a pair of Shelduck and several Eider with young. There was an unusually high number of c20 Gadwall, also 8 Wigeon, 6 Tufted Duck, Shoveler and 6 Little Grebe. We then headed to one of the nearby bays and had lunch, here there was an excellent group of shorebirds, 30 Dunlin, 20 Sanderling and 5 Turnstone many in breeding plumage.
We then headed on to South Uist, we were heading along a minor track when a small wader caught Paul's attention on a very small muddy pool. We stopped and immediately, I realised it wasn't one of the more regular species encountered on the isles! I was pretty sure on initial observation it was a Stint, and the solid pectoral band, plain brown upperparts and its slow movements all suggested Temminck's Stint, I was cautious though as I know the Uists offer up many American vagrant waders! I secured some record shots before getting out and getting some better images. It clearly was an adult Temminck's Stint and was chased off at one point by a parent Lapwing, whose chick was nearby. As it flew back in the trilling call was also heard as it flew back on to the pool. A nice find and apparently the only third record for the Isles in the last 20 years!
We continued South, a Sedge Warbler was singing from some nearby reeds, and arrived on the shoreline near Kilaulay where there was superb mixed flock of around 400 birds mainly Sanderling, Dunlin, Ringed Plover and a few Turnstone. We walked out and enjoyed the superb views and varied plumages of the Dunlin and Sanderling. Out on the sea there was also 2 summer plumage Great Northern Divers.
It was now late afternoon and we decided to start heading back North, stopping off for another look for the Phalaropes, but there was still no sign despite an extensive search for an hour!
We finished the day with a meal at Berneray Bistro, excellent food!
Overnight Self Catering Cottage – Clachan Bay, North Uist
Temminck's Stint – the third record on Uist's in last 20 years!
Day 5 Wednesday 7th June
We headed out after breakfast towards Langass Lodge, but as I headed South past the roadside Lochs, two buoyant shapes on a roadside Loch where I had seen Black-throated Divers before had us quickly grinding to a halt! A quick look confirmed my suspicions, a pair of stunning summer plumaged Black-throated Divers, the monochrome Rolls-Royce of wildfowl, covered in plumage intricacies! A great start to the day, we headed onwards to Langass. A short walk out through the heather and woodland at Langass offered up some commoner species, Dunnock, Goldcrest, Siskin and Willow Warbler. Of interest was also lots of Garden Tiger moth caterpillars along the path as we walked out.
Once up at the vantage point, it wasn't too long before a scan produced an Otter swimming across the Loch, it was soon joined by two Otter Cubs. We watched them for some time and eventually they gave delightful views getting out of the water and cuddling up to Mum and then the two cubs playing together! Just wonderful to watch as they were totally unaware of us, behaving naturally.
We then headed back to the Committee road and ate our lunches whilst being treated to almost non-stop Hen Harrier action, with five birds being visible at one point, including 3 males, plus 3 Short-eared Owls!
We were still short of good Golden Eagle views, unusual for the Uists, so I decided to try a nest area that had proven successful in the past. We took up our position and started scanning, we were kept busy in the first hour with a pair of Arctic Skuas, a male Hen Harrier, tangled with a Sparrowhawk, Curlews were constantly calling, a Meadow Pipit was servicing its young at a close nest, and a Golden Plover was sat prominently delivering it's a solemn call. Eventually a large raptor appeared on the hillside, at last a nice adult Golden Eagle, nice scope views, it eventually landed and was soon joined by a second Golden Eagle clearly a pair. We watched them for a quite a while, and eventually left them sat on the hillside surveying their domain!
We then headed out on to the Machair and into one of the prime breeding areas for the waders, where there was also breeding Little and Arctic Terns, point blank views of Ringed Plover, Redshank, Oystercatcher, Dunlin and calling Corncrake. The end of the track we had our only Corn Bunting of the trip.
Another great day, with plenty of quality sightings of the iconic species.
We ate in tonight and a big thanks to David (the chef) and Seán (sous chef!) for a lovely meal, enjoyed over wine and a few beers. The meal was interrupted by a White-tailed Eagle that soared in from the North and landed in the fields in front of the accommodation!
Overnight Self Catering Cottage – Clachan Bay, North Uist
Above – Black-throated Diver – lovely to see a pair of these beauties!
Below – Arctic tern – lovely to see these stunning birds up close.
Cuckoo – being mobbed by it's popular host species Meadow Pipit.
Dunlin – breeding birds on the machair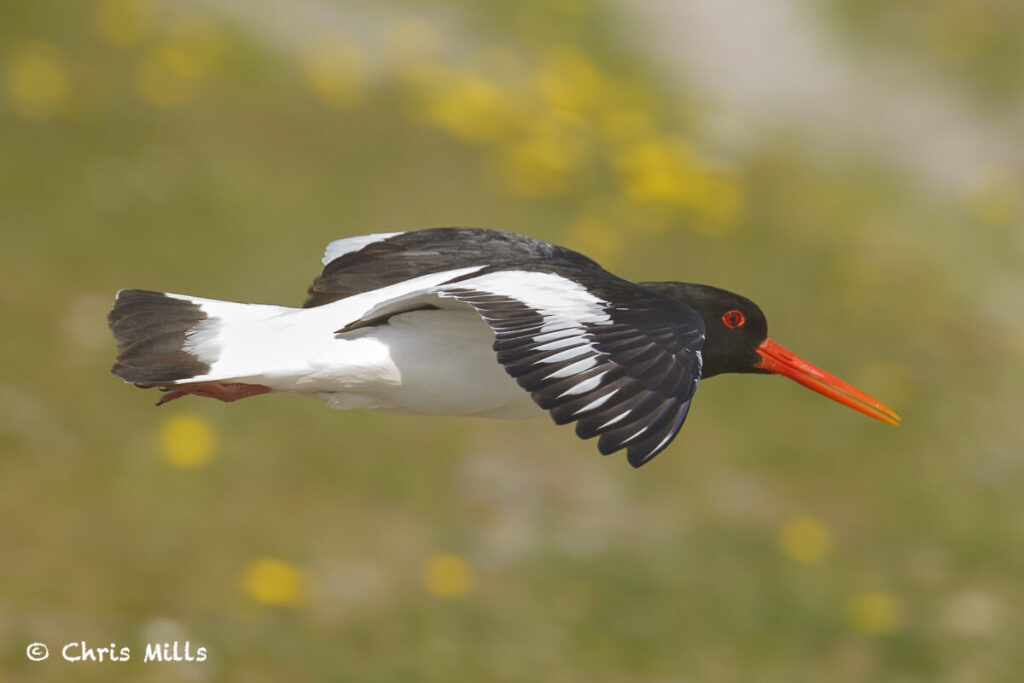 Oystercatcher almost everywhere on the island.
Day 6 Thursday 8th June
It had been amazing week of sunshine and dry weather, and today was no different! We headed out on to the Loch Portain road, and scanned from the North end, 2 Arctic Skuas a dark and pale morph past by, there was really nice views of one of several Cuckoo, a pair of Red-throated Diver were on one of the Lochs before taking flight, several Wheatear and Stonechat.
A White-tailed Eagle soared over the ridge and then perched up, and we had distant but reasonable scope views. Out on the sea there was 2 Black Guillemot and several Shag, plus close by a pair of Twite gave nice views on the heather.
We headed back to the accommodation for lunch and a break, as we were set to head out for an evening meal and birding in the evening to try again for the Phalaropes.
Mid-afternoon we headed back to the area where we had the Golden eagles the previous day, we rewarded fairly quickly with a Golden Eagle soaring over the righthand ridge, it soon disappeared off to the rightside of the ridge and I decided we should move and see if we could get it further along the road. This proved to be a really good decision, we stopped about a mile further along the road, and a raptor appeared on the horizon, except this was an Osprey! Then, soon followed by the Golden Eagle! Both birds soared along the ridge, the Osprey, disappeared South but the Golden Eagle, the male eventually perched right on top of the ridge, alongside a second Golden Eagle, it's mate, by far our best views of the trip.
Very satisfied we now headed South and off for an evening meal at Stepping Stones restaurant. After dinner it was time to try for our third and final attempt for the Phalaropes!
After about an hour or so of constant scanning and scouring, it was starting to feel like for the first time ever in many visits I was going to go home empty handed! But just as we were relaxing and enjoying the other birds, Paul asked me (with a knowing look!) to look through his scope! Indeed, there was a Red-necked Phalarope feeding along the far bank, in fact as we watched this bird feeing, it was soon joined by a second and then a third Red-necked Phalarope, it was a pleasure and a sense of relief! We watched them as they typically spun and picked from the water surface and the bankside vegetation.
We were now free to enjoy the drumming Snipe and singing Dunlin, it was a lovely calm evening, and the sights and sounds were wonderful!
We headed back to the accommodation after a very enjoyable day and evening.
Day 7 Friday 9th June
We had a relaxed start to our final day, it had been an amazing week both birds and weather, each day had been full wall to wall sunshine with light winds and we had pretty much had success with all the birds we wanted to try and see. First of all, there was the no small matter of sorting out Calmac ferry crossings, as we had our original booking cancelled. After consultation with Calmac, we decided we would leave on Friday evening as the next available crossing for us was not until Saturday evening.
We stopped off at the Committee Road again as this was just a great place for watching the Hen Harriers and Short-eared Owls and today was again a pleasure with great views of both.
We then headed over to Loch Paible, we did a circular walk, and enjoyed some lovely close Eider cooing as we walked past them, there was more close views of shorebirds, calling Corncrakes and a Great Northern Diver feeding just offshore.
Our final birding was to take a boat trip out of Kallin Harbour, early afternoon, off Grimsay. Our departure was delayed as a super Golden Eagle soared over the near ridge! We then headed out through the sea lochs with views of Arctic Skuas, several Red-throated Diver, Black Guillemots and Shags. We weren't quite prepared for just how close and the wonderful views we were about to get of White-tailed Eagles, with the male coming down to collect "bait" from the waters surface, affording amazing views and great photography!
We weren't quite done though as we pulled in a lovely, perched Peregrine at an eyrie on the boat trip back.
We now headed back to the accommodation mid-afternoon to give us chance to pack and we rounded off our island birding. Tour with a lovely take out fish and chips from the Berneray Bistro, throroughly recommended!
We boarded the ferry at 7.45am and we had a quick coffee before taking up positions for looking at the sea – the crossing produced, small numbers of Puffins, Guillemot, Razorbill and Black Guillemot, Arctic tern, Fulmar, Kittiwake, Gannets, 1-2 Manx Shearwater. Plus, a single Storm Petrel which was tricky but two people managed to lock on to it!
We reached Lochmaddy at 10.20pm and I drove through the early hours, caffeine infused before I dropped some of the group at 3.30am Saturday in Glasgow before taking a nap and then breakfast, not ideal but due to Calmac's cancelled ferries we were left with little choice. I arrived back in Nottingham early afternoon where the remainder of the group were dropped off.
Peregrine – good to see this bird on the last day.
Amazing views of this White-tailed Eagle from the boat trip!
Hen Harrier – we were treated to repeated and wonderful views of this enigmatic raptor!
Another excellent tour to the Uists, very fortunate this tour with not a drop of rain throughout the entire stay!
This tour will run again in June 2024 – please contact us if you are interested in joining the tour.
Mobile 07876 357677