Scottish Highlands Birding Tour April 13-20th 2019
Tour leader for Norfolk Birding – Chris Mills
Participants:- Keith Barker, Adrian Bradley, Richard Butler, John Fell & Adrian Roach, Eric Shipley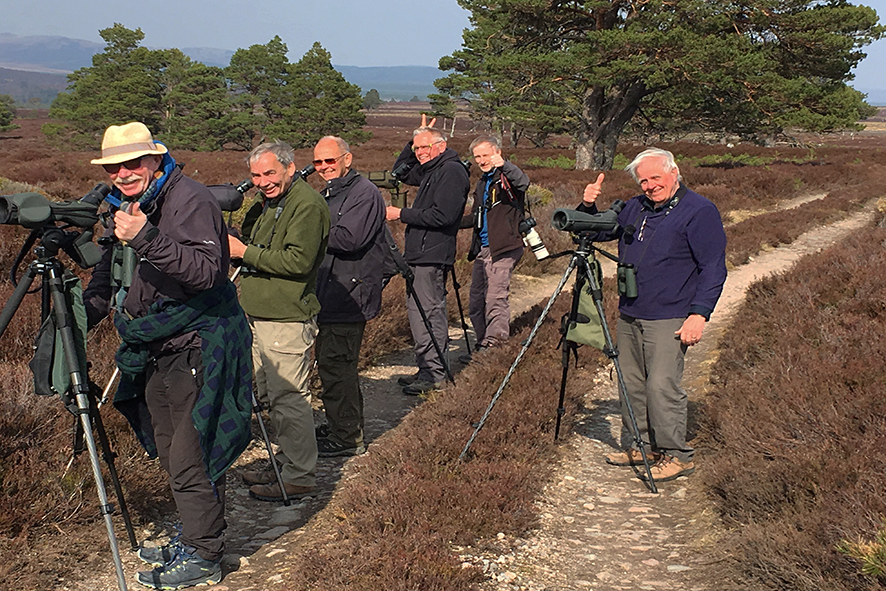 TOUR OVERVIEW
The tour was again based at the lovely and spacious accommodation of Feith Mhor lodge. A big old hunting lodge, set in it's own grounds with a large kitchen, dining room, lounge, drying room & 6 en-suite bedrooms proved perfect for our stay!
The tour offered a good overview of the specialist Highland species, and this year we had a fantastic tour. We saw all the iconic Scottish Highland species, Capercaillie, Ptarmigan, Crested Tit, Osprey, Black Grouse, Slavonian Grebe, Parrot Crossbill, Scottish-type Crossbills White-tailed & Golden Eagle. Plus breeding plumage Red-throated, Black-throated and Great Northern Diver. We also managed to see White-billed Diver and King Eider.
Also excellent were the mammal highlights of Red Squirrel, Red Deer, Mountain Hare, Brown hare and Badger. Over the 7 days we recorded 123 species of birds.
TOUR REPORT
Day 1 – Saturday 13th April. Norfolk to Carrbridge, HighlandsfHow to
I collected the group from a variety of locations Newark, Wetherby and Ferrybridge services.
We arrived mid-afternoon to the south of the Highlands and made our first proper birding stop to look for Black Grouse sometimes visible close to the main A9. It turned to out to be a great stop with 13 male Black Grouse present and giving really nice views.
We alsonoted Sparrowhawk and Buzzard whilst birding here. Further north on the A9 an immature Golden Eagle also passed over top of the minibus as we reached the southern Cairngorms but it was impossible to stop for, in a busy dual-carriageway section!
We soon reached Aviemore and stocked up on provisions in the local Tesco Supermarket and then got settled in at Feith Mhor lodge. A walk around the grounds and a cup of tea resulted in a few birds, Siskin, Mistle Thrush, Raven, Curlew and Lapwing.
We then had a lovely evening meal in The Cairn pub, we were in bed early after a long journey and a planned early start in the morning.
Day 2 – Sunday 14th April. Abernethy forest, Skye of Curr & Nethy Bridge area
Alarms were set for 5am & we left at around 5.45 am for birding at a nearby woodland site, I had been tipped off that Capercaillie had been seen in this area just ten days ago.
It was a bright, still morning and there was immediately good numbers of birds, plenty of vocal Siskin, Lesser Redpoll and a few Crossbills and numerous vocal Brambling. After half an hour of wandering the best area, we couldn't find any Capercailliebut we did hear the distinctive call of Crested Tit andafter a bit of searching a pair of Crested Tit showed nicely, affording good views for everyone!
There was still no sign of any Capercaillie, but as we walked back to retrace our steps we came across a group of 4 birders who had seen one Capercaillie fly across the main footpath. We stood quietly for another twenty minutes, then suddenly one of the other birders had the head of male in view, unfortunately it flew before we had chance to scope it. We remained quiet scanning from the path and then Adrian got glimpses through the trees of another male. I scanned hard with the scope and there it was! Bit by bit, as the bird moved through the trees, everyone got views of this male Capercaillie, tricky as it was and well into the forest. It was a great experience with the bird unaware it was being watched and eventually melting into the forest. Also noted here were Redwing, Fieldfare and Treecreeper. Aswe left we had nice views of a Red Squirrel. Heading back for breakfast we stopped off on the bridge in Carrbridge, where a pair of Dippers were showing very well.
After breakfast, we headed to an area of forest I have visited before. We were soon watching a nice group of 'Crossbills' (sp.)! We then had excellent views eventually at close range, of 20+ 'Crossbills' although this species is surrounded in controversy! The flock was quite mobile and spread out, but over the next two hours wehad good views.There were 1-2 obviously hefty birds, with heavier bills and an interesting array of calls. The persistence eventually paid off as I got the scope on a clear adult male Parrot Crossbill, and it wasfeeding a freshly fledged juvenile! I managed to get some digi-scope video which can be seen at https://youtu.be/Lz__IxqnveM
The surrounding Crossbills were also very interesting and all of the birds seen well seem to show intermediate sized bills and structures not really like standard Norfolk Crossbills! Nearby we also find Long-tailed Tit, Lesser Redpoll, Brambling, Treecreeper and the ubiquitous Siskin.
After lunch we headed along the Dornack road from Nethy bridge. En-route we were surprised to see 2-3 large groups of Pink-footed Geese, probably totalling some 3500 Pink-feet. The weather was still reasonable, though there was more of a wind and the cloud had started to increase. We chose a big lay-by towards the East end of the valley, with a big vista and view to give us the best chance of picking up any raptors in flight. We immediately had nice views of nearby displaying Curlew, Lapwing and Meadow Pipits, plus there was several Lesser Redpolls hanging around the nearby birch plantation.
Scanning the hills produced regular views of several Common Buzzard, next a Red Kite came into view – but bigger raptors didn't appear. The weather was getting colder and windy and we were about to leave when 2 Ravens appeared above the near hillside, clearly mobbing a large bird of prey, frustratingly it disappeared behind the hillside. After a further thirty minutes we were again set to leave when it reappeared, a superb immature Golden Eagle. It came down the hillside, flushing several Red Grouse and we had great scope views as it finally perched in a Scots pine. This allowed us to watch it until it took flight and worked along the rest of the hillside before disappearing. Very happy, we were about to leave (for the third time!) when another Eagle appeared from near the same area as before, this was a White-tailed Eagle. It soon gained height and headed up the valley. We decided to quickly reposition to try and get closer, we did get closer and suddenly realised there was now 2 White-tailed Eagles in the skies! A brilliant days birding rounded off wonderfully well!
Day 3 – Monday 15th April. Nairn, Findhorn Bay, Burghead & Lossiemouth
Today with good settled weather and onshore winds forecast, we decided to head north to the coastal areas of Nairn, Lossiemouth and Burghead.
We arrived at Nairn and headed out on to the pier. There was plenty to keep us busy, whilst searching for the main target! Quite a number of Guillemot and Razorbill, plus at least 50+ Long-tailed Duck, 10 Red-breasted Merganser and Common Scoter. There was also good numbers of Sandwich tern up and down the coast.
After some searching we located a small group of Common Eider, and amazingly with that small group there was the drake King Eider! There was also Turnstone and Redshank along the shoreline.
The next stop was at Findhorn bay, the estuary area had a huge roost of c1000 Redshank, plus a single Bar-tailed Godwit, and again another large number of c500 Pink-footed Geese. The scene was enlivened when a slightly distant but fishing Osprey was watched for several minutes. A quick look just offshore gave us lots of fishing Gannets, plus a whole load of Common Seals hauled out on the beach.
We now headed to Burghead, we started scanning from the East shore. Again the sea was busy with numbers of Guillemot, Razorbill, Kittiwake, Gannet and Shag.
Several Red-throated Divers flew by, and then I located a large Diver with an obviously pale bill, the bill slightly pointing upwards, the bird was just moulting into summer plumage and the pale barring on the mantle was just being acquired, it was a moulting White-billed Diver. The bird wasn't too far out and we soon all had the scopes trained on it and everyone had nice views of the White-billed Diver. We looked out from the North Pier as well but apart from a similar mix of birds we just added Rock Pipit.
The weather was starting to deteriorate when we reached Lossiemouth, the skies were grey and there was a fierce cold East wind! We scanned the seas, it was now hard work and no sign of the Glaucous Gull. We noted 6 Red-throated Diver flying west, a single Great Northern Diver on the sea and a few Common Scoter, Long-tailed Duck plus Kittiwakes and 8 Goosander were nice.
We stopped off on the way back and bought Fish and chips before retiring back to Carrbridge for the evening.
Day 4 – Tuesday 16th April. Carrbridge, Findhorn Valley & Moray Forth South shore
We had a relatively late start, with breakfast at 7.15am!
With the weather still holding, albeit a cooler overcast day we headed up the Findhorn valley to look for raptors. But we firstly ended up looking behind the house at a fantastic flock of c300 Brambling making an amazing noise and gathering in trees along the river just behind the accommodation.
As we arrived near the Findhorn valley a Red Kite greeted us, followed quickly by a second, also several Buzzard and a Kestrel. Next, an Osprey went straight over the top of us and headed south across the valley! We headed further on and were soon watching a Wheatear and a Dipper. The slopes also produced nice views of Red Deer & Brown Hare.
The weather was now cloudy, with a gusting wind. We tried the first viewpoint and had no luck with Eagles though I suddenly heard the distinctive "trilling" and to great surprise, a flock of 24 Waxwing, flew into view and perched in nearby birch trees. They were around for an hour before they disappeared back up the valley, a really nice surprise!
We next tried at the end of the valley to scan the skies, but without any success, I decided we should move on and try something different. We first looked at the Moray Firth area on the south shore and to the West of the A9, there was plenty of Curlew and Redshank, but few other waders, there was 7 Goosander, a Wheatear flitted along the shoreline, and 2 Osprey gave nice views fishing the nearby bay. We then headed along the South shore out towards Milton of Culloden, there was a lovely selection of birds out on the sea – 70 Greater Scaup, 40 Long-tailed Duck, 2 Tufted Duck at least 15 Slavonian Grebe with many in breeding plumage, 20 Goldeneye, a Great Crested Grebe, Red-breasted Merganser, plus 3 Wheatear and several hundred Pink-footed Geese.
It had been a great day again and we headed back to Carrbridge and enjoyed an evening meal and a beer at the accommodation.
Day 5 – Wednesday 17th April. Cairngorm Mountain, Loch Morlich area
The weather looked fine today with a lighter breeze so I decided it would be the best opportunity to head up Cairngorm.
On the way up the mountain, on the access road I pulled into one of the parking areas, and we were soon watching asmart Ring Ouzel. We then parked in the main car park and at least 4 Ring Ouzels were present. The group was split into two parties those that were happy to walk up to the top and those that preferred to take a break in the café area.
I walked up with the group electing to head up towards the area just below Caingrom on the Northern Corries path. En-route our walk produced good views of Red Grouse, Meadow Pipit, Raven and Wheatear. After about an hours walk, we were higher up and approaching a more suitable area for Ptarmigan. We then branched off into the boulder scree and started searching. The weather was less than ideal and much windier than I had expected, with the main issue the strong gusting breeze, making scanning tricky and hearing anything very difficult!
It was over an hour before I was able to locate our first Ptarmigan, and this bird flew up from my feet and disappeared quickly with the rest of the group some distance away. I fetched the group over as I was clearly in an area where other Ptarmigan might be found. Scanning from a slightly sheltered location eventually paid dividends, when John located a Ptarmigan on a distant ridge, it was a good find and a relief to get one in the scope at last. As we watched this bird through the scope we eventually heard and located another single Ptarmigan as it flew and dropped into view, much closer and better views. More than satisfied we headed down and met up with the others and enjoyed a well deserved lunch in the sunshine.
The others had been enjoying great views of Snow Bunting in the parking area and several of the group headed over and got some nice pictures, there was around 20+ Snow Bunting a lovely sight.
We headed down the mountain and stopped off in the forest, it was fairly quiet but after a bit of searching we had nice views of a Crested Tit, which was clearly gathering food to feed young.
We then stopped off at Loch Morlich, the sunshine had brought lots of people out and it was quite busy. The far shoreline was much quieter and after a bit of scanning we were really pleased to see a pair of breeding plumage Black-throated Divers, we moved position to get a little closer. We were then able to watch them swimming in tandem and doing some display, a wonderful sight. There was also 3 Goosander, 6 Tufted Duck, 10 Goldeneye and
6 Wigeon plus a few Sand Martin darting over the water.
We had a nice evening meal and also enjoyed watching the football Man City V Spurs in an Aviemore bar!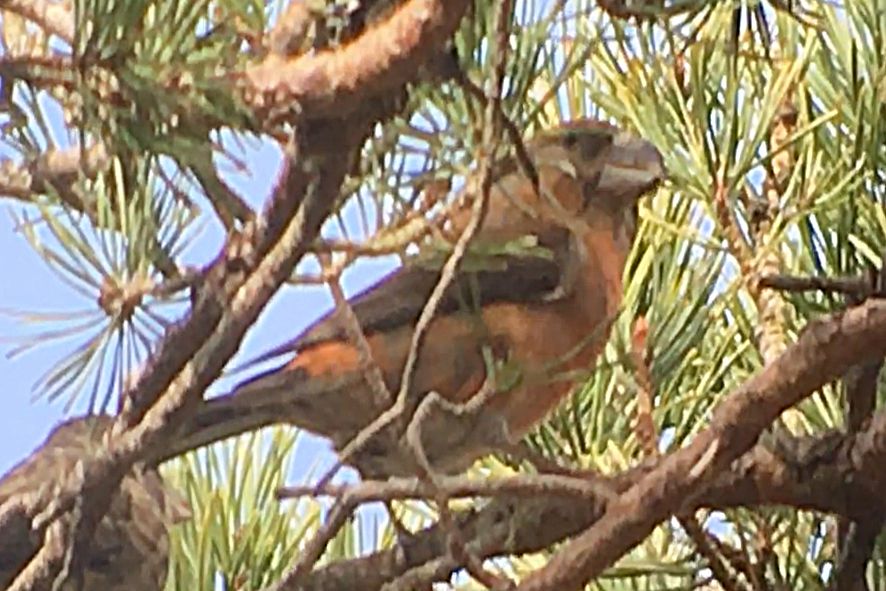 Day 6 – Thursday 18th April. Lochindorb, Findhorn Valley & Carrbridge
We started the day with a short drive to a moorland loch. It was a managed grouse moor, so there were plenty of Red Grouse, and lots of Meadow Pipit!
The target bird appeared instantly on arrival! A pair of beautiful and exquisite breeding plumaged Black-throated Diver, this time closer and were sat showing very well on a nice calm surface, initially preening and staying on the surface to allow everyone prolonged and good scope views. Also out on the Loch there was Goosander, Tufted Duck, Goldeneye, Teal, Redshank, Curlew, 2 Common Sandpipers and Wigeon. We also added Reed Bunting to the list.
The weather was lovely warm and bright and we headed back to the Findhorn valley in the hope of getting views of Golden eagle. We again had 2 Red Kite and thenour attention was drawn by a couple of calling Ravens to a Peregrine passing overhead.
We eventually reached the end of the valley and we had lunch and set a patient vigil, Sparrowhawk, Kestrel, Peregrine and Buzzards were all seen. Eventually the patience paid off when an immature Golden Eagle appeared along the ridge and we had nice scope views. As we left the valley we had nice views of a Red Squirrel.
We then headed back to Carrbridge and down the valley, the fields at the end of the valley had a lovely group of around c10 Golden Plover, all in smart breeding plumage, also here a Wheatear and Mistle Thrush. Scanning produced another, but distant Golden followed by a distant White-tailed Eagle. A closer Osprey was watched perched nearby and this gave us really nice selection of raptors for the day!
We had a late afternoon cup of tea, followed by dinner at the accommodation before heading out for an hours dusk birding. This came trumps as the light was fading with a Woodcock roding past us several times, there was also Tawny Owl calling.
Day 7 – Friday 19th April. Carrbridge, Aviemore, Craigellachie, Lettoch, Insh Marshes.
Our last day of real birding was sunny and dry, it had probably been the driest week I've ever known in the Highlands, we had a barely had a drop of rain all week.
Two of us started the day with a pre-breakfast foray up into the nearby woodland, there was a good selection of previously seen birds, no Capercaillie, but c10 Crossbills were notable, plus Willow warbler and Tree Pipit were vocal and a Crested Tit was calling and showing well.
We now headed to a small Lochan where we very fortunate on arrival to get great views of a pair of breeding plumage Slavonian Grebes. They were close so we just sat quietly, and stayed in the minibus and they gave us a great hour at close quarters.
We then visited Craigellachie NR, there was no sign of the Peregrines, but a walk through the woods gave us nice views of 2-3 Tree Pipit though we couldn't hear any early Redstart or Pied Flycatchers.
We then headed out to an Osprey breeding locality, where a pair have historically bred. On arrival, we were fortunate as both Ospreys were active and we had fine views of the male as he soared around and perched up, only to take off again then return to mate with the female Osprey! Whilst we watching the Osprey action we enjoyed views of Reed Bunting, Treecreeper, Siskin, Grey wagtail, Willow Warbler and Lesser Redpoll.
We then headed to Nethy Bridge, the local Dippers gave stunning views just near the bridge and we headed into the Nethy House Café for last day coffee and cake! This is a great café and everyone was soon munching on the great cakes they serve up there, along with fine strong coffee! We even added House Martin whilst sat outside enjoying the sunshine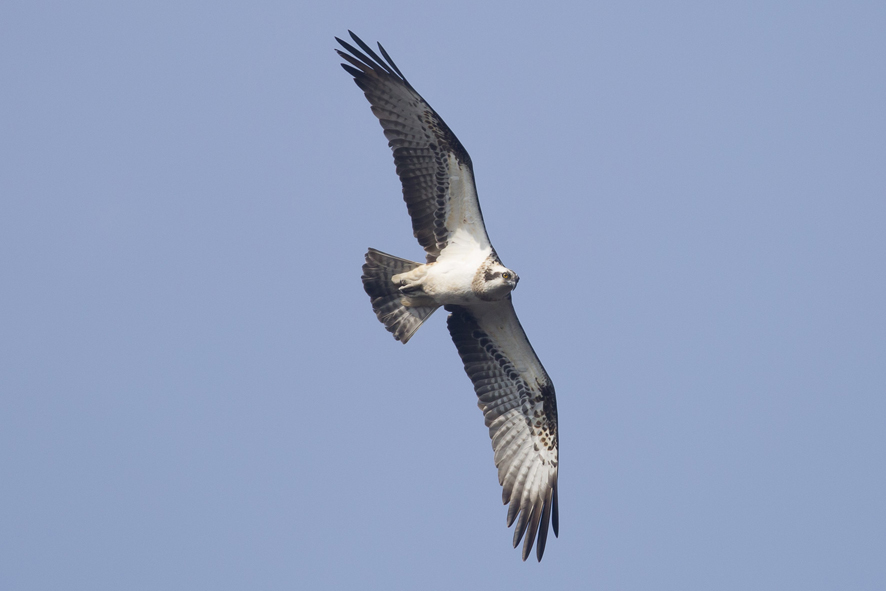 Saturday 13th May. Day 8 – Return to Norfolk
We left Carrbrige at 6.00am and the journey went really well with everyone dropped off by 3pm and I arrived back in Norfolk at 430pm. There was one more sighting of real note near Balsporran, south of Dalwhinnie as an adult White-tailed eagle flew across the road heading into the mountains! A fitting way to end a great trip.


Birds recorded
Over the week 123 species were recorded by the group, but most memorable will be the Capercaillie, Ptarmigan, White-tailed eagle, Golden Eagle, Crested Tit, groups of Crossbills including the Parrot Crossbill feeding a youngster. Wonderful views of Osprey, and of course the stunning breeding plumage Black-throated Diver and Slavonian Grebe, plus the Scaup, Long-tailed Duck, King Eider and White-billed Diver
Not to be forgotten were the surprise flock of Waxwings!
If you are interested in joining a future Highlands tour please contact us for details.
Next Highland Tour April 2020
07876 357677