Norfolk Day Three of Five Day Tour – 14th October
I decided we would set out at North Point near Wells and walk along the bushes and hedges, as the weather looked good for thrushes and migrants with a NE wind and showers.
On arrival there was good numbers of thrushes, mainly Redwing, some Fieldfare, many Blackbirds, some Song thrush and plus small numbers of Brambling, Siskin and Redpoll. A Blackcap appeared with the thrushes and we headed on towards Warham. The first section was fairly quiet but eventually we came across a whole load of birds on the landward side of the hedge. There was a mass of Goldfinches, plus Chaffinch, a few Brambling and as we stood back and scanned with the scopes, several warblers appeared. There was a Garden warbler and then almost next to it a Barred Warbler appeared, probably the bird from the previous day, but we hadn't known about this so it was great to have stumbled across it. I got everyone on to the bird, plus another visiting group of birders. There was also a Lesser Whitethroat, a pale bird it was an Eastern Type Lesser Whitethroat.
We continued up to Garden grove there was more finches, Reed Buntings, Meadow Pipits, Skylarks, lots of Goldcrest, 1-2 Blackcap and a Chiff-chaff. As we walked back a nice Ring Ouzel appeared along the hedge.
We had lunch then headed on to Holme. We headed straight to the area where a Pallas's warbler had been seen and joined a small group of birders waiting patiently. We were there a little while with nothing to be seen when there was a bit of movement and suddenly the Pallas's Warbler appeared. It was an absolute stunner and showed very well perching out on the grass and lower branches, hovering and baring all it's stripes and lemon rump! We stood for some time and admired it as it seem to disappear for 20 minutes and then reappear.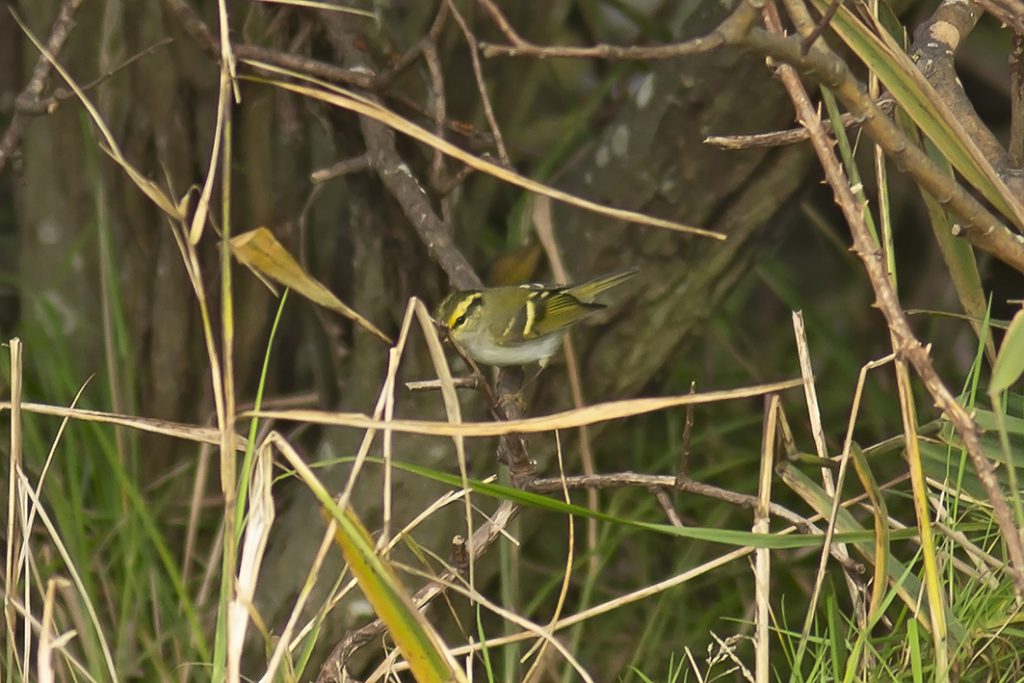 We then headed up to Gore point and watched the sea for a while there was thrushes arriving in off the sea in small groups and it was fun picking up the scope and watching them gratefully plunge down into the buchtohron as they arrived over the land.
Out at sea 14 drake Eider and a vast number of Common Scoter were offshore, plus passing number of Wigeon and Common Scoter.