Norfolk Day One of Three Day Tour – 18th October
There was a wealth of rare birds to head off and look for today, after a period of high pressure and North Easterly winds. We took the decision to head firstly for the rarest of rare, a Rufous-bushchat that had been found and Saturday and I had managed to see on the previous afternoon.
The tide was high and on arrival it was obvious the bird wasn't going to be out on the saltmarsh in the sueda bushes where it had been the previous day. A crowd was assembled along the edge of a stubble field and we joined the crowd! Fortunately it was still present and the Rufous Bushchat was showing on and off as it flitted out of the hedge and on to the edge of the field!
Nearby we walked along the saltmarsh and enjoyed a nice group of Dark-bellied Brent Geese and a lovely flock of 300+ piping Golden Plover overhead, with Curlews a backdrop to all the sounds. The wood held several nice flocks of Goldcrests, but the previous days Pallas' Warbler seemed ot have disappeared. The rougher arable fields to the East did provide a nice selection of finches, buntings and Skylarks with the highlights Yellowhammer, a flock of c150 Linnet, several Brambling plus Redwing, Fieldfare and Mistle Thrush.
We then headed off towards Thornham harbour area. It didn't take too long before we had located a smart male Redstart, but this was soon to be trumped with a stunning six-striped sprite, a beautiful Pallas's Warbler giving itself in low vegetation.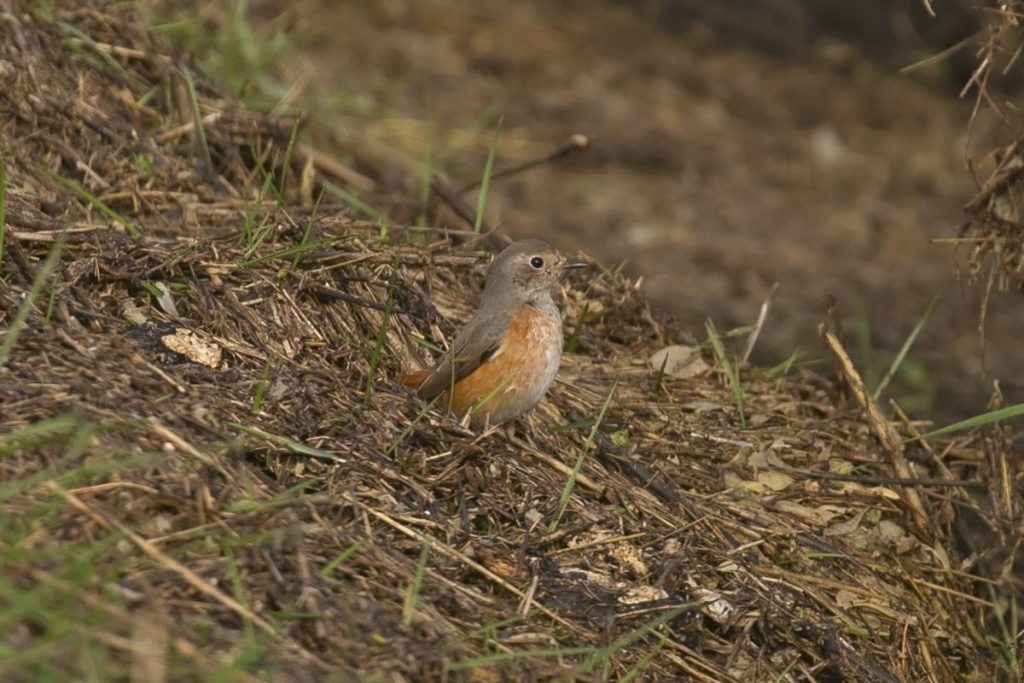 We then headed off to Holme had our lunch. Over lunch we enjoyed flocks of Redwings, Blackbirds and a few Fieldfare overhead, the air full of birds and calls! We then headed to the paddocks area, where there had been at least 2 Red-flanked Bluetails present for the last few days. I had seen the first one with the previous tour.
Not so easy this time as the Bluetails were now not so tired and hungry and it took a little while before everyone had satisfactory views! But eventually the Red-flanked Bluetail appeared closer and we rewarded with much better views.
We were having a pretty amazing day and wondered if our luck would continue!? We headed up to the NOA Observatory where a Dusky warbler had been trapped and ringed. This of course would be a lot more tricky to see & so it proved. It was calling and I managed glimpses of the Dusky Warbler it as it stuck to the low vegetation, but it was difficult to get any of the group on to the bird.
A great day with so many scarce & rare birds.