ISLAY TOUR REPORT Birding Tour of Islay 9th-16th March 2019
Participants:- Robin & Vivien Arbenz, Doug & Penny Boyd, Chris Brock, Derek Pittman and Marian Wootton.
Tour Guide for Norfolk Birding – Chris Mills
OVERVIEW OF THE TOUR
This was a one week winter tour to Islay, off the west coast of Scotland in Argyll.
We were a little less fortunate with the weather this year than previous tours , strong to gale force winds in the middle of week and some heavy rain made birding at times a challenge! However, we still had all the iconic species – with spectacular views of Golden and White-tailed eagles, vast flocks of Barnacle and Greenland White-fronted Geese, Hen harriers – though sightings of these seem to be affected more so by the weather, Whooper Swans, Chough, Twite (c200 in a single flock) and good numbers of wintering Great Northern Divers one bay holding 35 after the storm, plenty of sea duck and grebes and we also managed to see a Todd's Canada Goose. Islay again proved, to be a real winter birding treat!
We stay in the beautiful and comfortably refurbished Edwardian property at Kilchoman,  Choughs and Ravens displaying over the grounds and nesting close by.
All images in this report © Chris Mills www.norfolkbirding.com
Friday 9th March – Glasgow
We all gathered pre-tour in Glasgow at the Premier Inn North Stepps, where rooms were pre-booked for everyone. We had a nice evening meal in the adjoining restaurant and retired early ready for an early morning start on Saturday.
Overnight in the Premier Inn, at North Stepps.
Saturday 10th March – Kennacraig harbour & ferry crossing.
We left Glasgow at 0700am & arrived at Tarbert near Kennacraig ferry terminal for breakfast at 10.00am.  En-route we stopped several times, but the best birding was near Lochgilphead. Where there  was 2 Long-tailed Duck, a nice group of Eider, Goldeneye, Curlew, Turnstone, several Shag and some nice close Red-breasted Merganser.
As we headed on towards Tarbert, quite a few birds were noted from the windows of the minibus, including our first Hooded Crows, Raven, Buzzard, Grey Heron, Oystercatcher
After a hearty full Scots breakfast, we had a walk around the harbour. It was a nice morning bright morning but quite breezy, with the odd quick shower. The harbour offered up more birds with Little Grebe, Eider, Red-breasted Merganser and some really nice views of the lovely iconic Black Guillemot. By the time we reached the ferry terminal at Kennacraig the weather had closed in, but even so I quickly managed to locate 4 Red-throated Diver, 2 Great Northern Diver and 2 Slavonian Grebe.
We boarded the ferry for the crossing shortly after midday and took our position for birding during the crossing on the rear deck of the big 'Finlaggan' ferry. The crossing had a good cross section of wintering seabirds.  Several Red-throated Diver, c12 Great Northern Diver, lots of Shag, Red-breasted Merganser and Wigeon.  Also Common Guillemot, Razorbill, a few Kittiwake, Gannet, and Goldeneye.
As we arrived in the Sound of Jura, the first Red Deer were noted on the hillsides. But more exciting was a distant adult White-tailed Eagle over Jura seen by just two of us. But a Golden Eagle also lower down over Jura proved a little easier and we had all scope views, a great start to the trip! We arrived late afternoon at Port Ascraig and decided to head for the accommodation, via the Supermarket at Bowmore.
We stopped off several times for the flocks of Barnacle & Greenland White-fronted Geese, we also scanned the Loch Indaal bay and on the outskirts of Bowmore we had nice views of 4 Pale-bellied Brent Goose.
Out in the bay we had nice scope views of Wigeon, Eider, Ringed Plover, anice group of Dunlin and several Great Northern Diver.
The COOP at Bowmore is very well stocked these days and we got all our food provisions for the next few days. We arrived just before dark and we settled into the lovely warm and comfortable accommodation at Kilchoman. We had an evening meal in the Pizzeria in Bowmore which was really nice. On the way back a beautiful Barn Owl was perched and allowed close approach.
Overnight Kilchoman House
Sunday 11th March – Loch Gruinart RSPB Reserve and Ballygrant.
Breakfast was arranged for 8.00am and we were all in the minibus and on our way by 9am. It was a cold grey morning, windy with occasional showers making birding a little tricky, but we did rather well in the end!
Just behind the accommodation 5 Chough were flying around and a pair of Ravens were displaying.We then headed out along the lanes around the North area of Loch Gorm, we enjoyed the first large flocks of 1000+ Barnacle Geese  & 200+ Greenland White-fronted Geese. We scanned hard through the flocks, but unfortunately we didn't find any 'rare' Canada Goose on this occasion. I was soon drawing to a halt again as we came across a nice flock of Lapwing, plus several Ringed Plover and even nicer were 2 Twite feeding in amongst a group of Skylark and several Reed Bunting.
We then headed on towards the Gruinart RSPB reserve and the viewing platform. We had good views of lots of Barnacle Geese, Greenland White-fronted Geese, 2 Red-breasted Merganser, c250 Wigeon, 30+ Shoveler, 100+ Teal, 20+ Pintail, Shelduck, c250 Lapwing and also 5 Whooper Swans. I couldn't locate the Green-winged Teal, though many of the Teal were tucked up asleep in the blustery and heavy showers!
Out on RSPB Gruinart flats, it was quite a sight.  There were thousands of Golden Plover and hundreds of Lapwing, plus c100 Curlew, 50 Dunlin and 30 Redshank. The scanning did pay off in one sense, as I located the wintering Little Egret.
We thawed out in the Visitor centre, enjoyed our packed lunches and hot drinks and we then headed back along the main road towards Ballygrant. We checked through the several flocks of Barnacle geese, but no sign of any 'Canada Geese'.
One of the flocks took flight and an immature White-tailed Eagle appeared, it headed over Ballygrant and we chased it down the road! Eventually getting quite close views through the trees, if a little silhouetted against the skies! The weather had suddenly improved and I decided it was an opportune moment to head to a good raptor viewing area. This proved an inspired decision, as we arrived an adult White-tailed Sea Eagle soared up and past us!
The weather closed in again and after a successful day we headed back for cups of tea and a thaw out
In the evening we had a nice meal in the Lochside Hotel. Overnight Kilchoman House
Monday 12th March – Kilchoman, Ardnave Point, Gruinart Bay, Today started brighter and after breakfast we headed out. As we left Kilchoman, a flash of steel grey whisked by the minibus – a male Merlin! We then headed past Gruinart, where the masses of Golden Plover and Lapwing were lovely to see. We then headed out towards Ardnave Point. There was a strong gusty wind, though it was still nice and sunny, the Loch was fairly quiet. We walked out towards the dunes and several times a nice group of 4-5 Chough flew over us, calling and undertaking their bouncing display flights overhead. Though they refused to perch close up for us, lively and enjoying the gusty wind! The Chough disappeared over to the farm, so we headed over that way and eventually we found them. We were delighted to find them carrying nesting material and spent an hour watching them flying back and forth.
We next stopped again nearby and looked through another big flock of Barnacle Geese. We then headed on to the edge of Loch Gruinart shoreline, the tide was just dropping and a flock of shorebirds banked up, a nice group of Bar-tailed Godwit, Knot and Dunlin. The birds eventually dropped on to the mud and we were able to scope them around c120 Bar-tailed Godwit, 40 Knot, Curlew a few Dunlin and Redshank.
We next headed over towards Bunnahabhain, we had a late lunch and started scanning the bay for Otters on a dropping tide. There was no sign of the Otters, but we soon had 2 adult White-tailed Eagles in the scopes. They started off distantly over the Paps of Jura, but it was lovely to watch them drift slowly towards us and then over to Islay, soaring high on the breeze. More scanning out in the bay revealed 3 Great Northern Divers, a Black Guillemot, Red-breasted Merganser plus several Shag. Another Eagle appeared, this time over the Islay hills, it was a Golden eagle an adult and it drifted inland. By now it was mid afternoon, the weather was bright and we headed back inland. As we drove along the main road a male Hen Harrier, whisked across the road and nearby moorland keeping low and disappearing quickly. We reached the head of Loch Indaal and the wind had dropped and the sea was a little calmer, so we decided to scan the bay, there was a 50 Common Eider, a surprising flock of c40 Common Scoter, 15 Red-breasted Merganser, 9 Slavonian Grebe, Black Guillemot and a Lesser black-backed Gull.
The weather closed in again and we headed back to Kilchoman for tea and biscuits! Of note on the way back was Simon King, he was sat in pretty appalling weather clearly filming the endearing and local Brown hares!
We ate in at Kilchoman this evening and we all enjoyed a chicken tikka masala with a glass of wine or a beer. Overnight Kilchoman House
Tuesday 13th March – Sanaigmore, The day started windy and blustery, with showers on and off, but some brighter spells in between.
We headed up to one of my favoured spots. I was optimistic that in between the showers the Eagles would want to get up and have a fly around despite the strong gusting winds. As we waited we were treated to 2-3 Choughs, that showed really well, with two landing close by the minibus and allowed us to get some nice pictures. Nearby, several Buzzards, Hooded Crows and Ravens were also seen. Suddenly a superb Golden eagle appeared along the top of the ridge. Frustratingly, it moved in and out of view several times, behind the ridge. But eventually it came in front of the ridge and then we could see it was carrying prey, possibly a rabbit, before it disappeared from view. Also a nice group of 30 Skylarks, a pair of Stonechat, 2 Pied wagtail, and a hunting Sparrowhawk came up the track towards us.
It was decidedly chilly in strong winds and we headed in to a local café for a coffee and warm up. The weather was a mixture of brightness and showers during the afternoon, I stopped off to look again through the Barnacle Geese at Bridgend. Suddenly, all the birds took flight and a hunting Peregrine was the reason, we all managed to get on to it as it towered up screaming down through the gulls and half-heartedly chased an Oystercatcher.
Not too far from here, scanning produced a distant White-tailed Eagle. We then headed over to the Woollen Mill, a quick tour of the mill was enjoyed by everyone and the bird-feeders were incredibly active with c50 Chaffinch, lots of Blue, Great and Coal Tits. Really nice were superb male Siskins, feeding on the feeders. The river was high with the rainfall, but a nice pair of Grey Wagtails were present, a circular walk failed to discover any Dippers, but Goldcrest and Long-tailed Tits were additions to our list.
We headed into Bowmore, did a bit of shopping and then scanned from the pier – nice views of 2 Red-throated Diver, 5+ Great Northern Diver, 5 Slavonian Grebe one showing well off the harbour wall at Bowmore, c30 Eider, Shag, Goldeneye, Red-breasted Merganser & Wigeon.
The wind was now truly blowing and we decided to have another night eating in, as the weather now looked pretty grim!
A great spaghetti Bolognese and overnight Kilchoman House.
Wednesday 13th March – Loch Indaal, Bruichladdich, Bunnhabhain and RSPB Gruinart Today wasn't quite as bad as we might have expected, the winds were still strong but with bright spells. We started the day rather well, with 7 Purple Sandpipers just outside of the Bruichladdich distillery, also Ringed Plover displaying and at least 30+ Great Northern Diver presumably the strong winds pushing them into the bay also Eider, Black Guillemot and Common Scoter offshore.
We then continued with more Eagles! First a young Golden Eagle located as we travelled along the main Port Ascaig road, Chris Brock first noticed it on the South side, it crossed the road and we chased it as it headed up a valley near Ballimartin. We positioned ourselves at the top of the valley and had good views and got some pictures, it was mobbed by Buzzards, several times turning upside down bearing it's talons at the irritants. It eventually disappeared north, but we soon located another Eagle…this one was an adult White-tailed Eagle. It had been a magical an hour and we headed off back to Bunnhabhain, hoping for more luck with the elusive Otters.
No such luck with the Otters! But again we picked out plenty of birds as we waited and looked, a single Red-throated Diver, 7 Great Northern Diver, 6 Red-breasted merganser, Black Guillemot and another Golden Eagle albeit this one pretty distant. There were several Buzzards and Ravens were displaying nearby.
We had a nice tour around the Bruichladdich distillery and then we headed back to Gruinart with the weather starting to deteriorate again, we headed out on to the viewing platform and although it was raining the wind had dropped a little and the duck were spread out feeding. There was 5 Red-breasted Merganser, Wigeon, Shoveler, 20+ Pintail, Shelduck, Lapwing, c70 Curlew, 5 Whooper Swans. But I concentrated mainly on scanning through the c250 Teal, it took around thirty minutes and eventually I located it, the long staying Green-winged Teal!! Everyone got scope views, it was obvious once you had it and it was posing sideways on, but it could be a devil to find once it got in tight amongst the other Teal or went to sleep!
There was just enough time on the way back to search the moors around Loch Gorm, this came up trumps with nice close views of a ringtail Hen Harrier, we even had it hunting a young rabbit at one point, although I am not sure how serious it was about prey this size!
Back to the Pizzeria again tonight, it must be good! Overnight Kilchoman House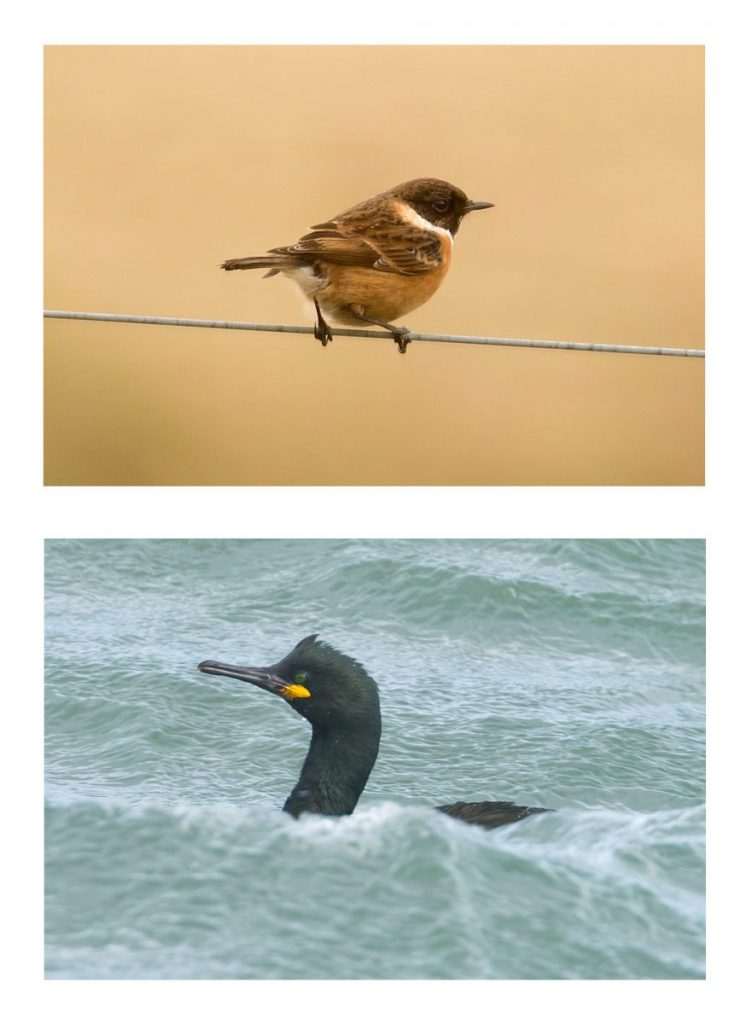 Thursday 14th March – Loch Indaal, Bruichladdich, Gruinart Today's forecast was not great, but in the end it was very windy but at least fairly dry. The wind hit 45 mph around midday so we had an extended lunch break in the Gaelic centre.
We set off down to Portnahaven to marvel at the stormy seas. The bay was predictably awash with high rollers and white surf, a wonderful visual spectacle. There was plenty of Gannets offshore, plus 1-2 Fulmars, the harbour area gave us wonderful views of around 250 Grey Seals, many pups amongst the adults, in attendance next to them was Great-black-backed, Herring and Common Gulls, as well as nearby loafing Cormorants and Shags sitting out on the rocks. We took the long route back through the moorland but save Hoodies, Ravens and a single Buzzard the now strengthening wind seemed to be keeping most raptors low.
Today we had a longer lunch stop at the Gaelic centre, it was nice to take a break from the wind and showers!
The birdwatching did finish on high after lunch. I stopped off north of Bridgend to scan through a big flock of c3000 Barnacle Geese, despite being hopeful I couldn't find any 'Canada Geese" again!  But late in the day after a prolonged period of rain I was hoping that raptors might have a quick drying off flight. We were in luck as we had prolonged views of an hour of single immature Golden Eagle, mobbed by Buzzards, it was eventually joined by a second Golden Eagle. During the prolonged period of watching the immature Golden Eagle it amazingly flushed a fair-sized Roe Deer and several times it swept down, almost if it was going to try and attack the deer. The Deer reacted by bouncing up 3 times off the floor on it's back legs, pretty amazing stuff to watch. We headed back content, as we got back the wind was really blowing and it then continued to just get stronger hitting 70mph early evening! Dinner was at the accommodation and delayed by a power failure for 2 hours, fortunately it was back on by 630pm and we were able to cook our evening meal!
Overnight at Kilchoman House.
Friday 15th March – The Oa & South Islay, Arbeg and Kidalton Last day and last chance to find a real wild Canada Goose! Ian & Margaret Brooke had kindly swapped our bird records for tea, cake and gen throughout the week!! Ian had given me the location at Leorin of the Barnacle Goose flock there, which had been holding a Todd's Canada Goose  – this was the first port of call this morning. Always worth checking out Ian's Islay bird blog
We saw the Barnacle Geese well before we arrived near Leorin, about c3000 Barnacle Geese, they were up in the air spanning the skyline. Fortunately, they landed in view. I found a reasonable sheltered spot, out of the way of a now fierce, bitterly cold NW wind! The group stayed put, I couldn't really blame them! I got lucky, though I had been pretty persistent all week, and now I had the Todd's Canada Goose in view, I beckoned everyone out and person by person, everyone got great views.
We then headed to The Oa and bumped into Dave Wood who told us where to look for the Twite and kindly gave us a bit of closer access, I think he was taking pity in the raw wind!
Stalking the Twite proved tricky, they were ultra jumpy in the gusty conditions, but eventually we got the sun behind us, found a bit of shelter and had fine views of c250 Twite, plus c70 Linnet and c40 Skylarks. Afterwards we found another sheltered spot looking out out towards the cliffs, we had nice views on and off as a ringtail Hen Harrier hunted low, occasionally banking up in the strong wind.
We next headed East and out along the pretty SE corner of the island. We stopped off for coffee at Ardbeg, then headed to the little harbour area, still no Otters! But point blank views of Shag and Great Northern Diver just off the pier, shortly followed by wonderful close views of a Peregrine that flew straight towards us and then straight over our heads.
We then continued East, stopping off for some game feeders I had visited before, this gave us our first Yellowhammers of the trip!
We stopped off in a beautiful sandy bay and enjoyed the views, plus some displaying Red-breasted merganser, also Black Guillemot and a nice adult Gannet close inshore
The birding for the day was very neatly rounded off when we stopped off and had great views of a near adult White-tailed Eagle at close range.
We rounded off the trip with the traditional last evening meal visit to the Port Charlotte Hotel.
Saturday 16th February – Port Ascraig harbour & ferry crossing to Kennacraig The crossing provided a good selection of birds to finish the trip, c15 Great Northern Diver, 5 Red-throated Diver, 2 Slavonian grebe, 5 Kittiwake, 1 Razorbill, Common Guillemots, several Black Guillemot & Common Scoter.

Summary –Overall we had a successful trip, recording 97 species of birds. The weather was challenging more than normal this time, but with many continual observations of quality species and good views of many scarcer species we had a really enjoyable trip.
Overall we had a successful trip, recording 97 species of birds. The weather was challenging more than normal this time, but with many continual observations of quality species and good views of many scarcer species we had a really enjoyable trip.
Systematic list of species recorded is on the next page, the three species that are marked with an asterisk * were recorded en-route and not on the island.
Systematic list of species recorded during the tour
| | | | |
| --- | --- | --- | --- |
| 1 | Red-throated Diver | 50 | Redshank |
| 2 | Great Northern Diver | 51 | Turnstone |
| 3 | Little Grebe | 52 | Black-headed Gull |
| 4 | Slavonian Grebe | 53 | Common Gull |
| 5 | Fulmar | 54 | Herring Gull |
| 6 | Northern Gann | 55 | Great Black-backed Gull |
| 7 | Great Cormorant | 56 | Lesser Black-backed Gull |
| 8 | Shag | 57 | Kittiwake |
| 9 | Little Egret | 58 | Guillemot |
| 10 | Grey Heron | 59 | Razorbill |
| 11 | Mute Swan | 60 | Black Guillemot |
| 12 | Whooper Swan | 61 | Rock Dove |
| 13 | Greenland White-fronted Goose | 62 | Woodpigeon |
| 14 | Greylag Goose | 63 | Collared Dove |
| 15 | Barnacle Goose | 64 | Barn Owl |
| 16 | Pale-bellied Brent Goose | 65 | Skylark |
| 17 | Todd's Canada Goose | 66 | Meadow Pipit |
| 18 | Shelduck | 67 | Rock Pipit |
| 19 | Eurasian Wigeon | 68 | Grey Wagtail |
| 20 | Eurasian Teal | 69 | Pied Wagtail |
| 21 | Green-winged Teal | 70 | Wren |
| 22 | Mallard | 71 | Dunnock |
| 23 | Pintail | 72 | Robin |
| 24 | Shoveler | 73 | Stonechat |
| 25 | Common Eider | 74 | Blackbird |
| 26 | Long-tailed Duck | 75 | Song Thrush |
| 27 | Common Scoter | 76 | Mistle Thrush |
| 28 | Goldeneye | 77 | Goldcrest |
| 29 | Red-breasted Merganser | 78 | Long-tailed Tit |
| 30 | White-tailed Eagle | 79 | Coal Tit |
| 31 | Hen Harrier | 80 | Blue Tit |
| 32 | Sparrowhawk | 81 | Great Tit |
| 33 | Buzzard | 82 | Treecreeper |
| 34 | Golden Eagle | 83 | Red billed Chough |
| 35 | Merlin | 84 | Jackdaw |
| 36 | Peregrine | 85 | Rook |
| 37 | Pheasant | 86 | Carrion Crow |
| 38 | Moorhen | 87 | Hooded Crow |
| 39 | Oystercatcher | 88 | Raven |
| 40 | Ringed Plover | 89 | Common Starling |
| 41 | Golden Plover | 90 | House Sparrow |
| 42 | Lapwing | 91 | Common Chaffinch |
| 43 | Knot | 92 | Greenfinch |
| 44 | Purple Sandpiper | 93 | Goldfinch |
| 45 | Dunlin | 94 | Siskin |
| 46 | Snipe | 95 | Linnet |
| 47 | Woodcock | 96 | Twite |
| 48 | Bar-tailed Godwit | 97 | Yellowhammer |
| 49 | Curlew | 98 | Reed Bunting |
Mammals
Red Deer
Roe Deer
Brown Hare
Rabbit
Common Seal
Grey Seal
Evening meals were taken at The Lochside Hotel, Pizzeria and The Port Charlotte Hotel and 3 nights we cooked and ate at the accommodation.
This tour will run again in February 2020 – Please contact us for details chrismills@norfolkbirding.com or 07876 357677
Useful links – http://islaybirds.blogspot.com/