Exclusive North India Wildlife & India Birdwatching Tours
We offer you the opportunity to create your own North India birding and wildlife tour. We will discuss, develop and arrange the itinerary,
Our regular Indian tour operator will arrange collection from the airport, your accommodation, transport and English speaking guides. Visit Bharatpur wetland, see the Himalayas, stay in Corbett NP and look for Tigers, Leopard, Elephant and visit the Taj Mahal. As part of your itinerary you may wish to visit the incredible Vanghat campsite, a remote, beautiful camp situated in a lovely forested river valley, Details of the Vanghat Camp are below.
North India exclusive tour for iconic birds Forktails, Ibisbill, Rubythroats and Bluethroat, see the vast wetland of Bharatpur in Keolado NP, thousands of storks, herons, egrets and ducks. See the beautiful forest in the foothills of the Himalaya's and a great chance of seeing a Tiger, seen on each trip in the last 3 years.
Taj Mahal, Tigers, Elephants, Himalayas and iconic birds, add to this, all of the other birds, wildlife, plus the sights, sounds and intensity that is only India. Then this culminates in a trip of a lifetime!
2012 Trip report click here
North India Exclusive Birding Tours D
November 2018 to February 2019
A 14 day tour of North India, fully inclusive tour
Based on 2 persons/tour cost from £2850.00
Based on 4 persons/tour cost from £2450.00
Single room supplement £700.00
Price Excludes flights.
Tour cost 13 nights/14 days
Typical tour itinerary below but this can be tailored to your choices, prices may vary.
1 night stopover on arrival Delhi
4 nights & 3 days at Bharatpur with transfer via
Taj Mahal and train to Ramnagar.
2 nights and 2 days around Nainatal and Pangkot in foothills and forest
Transfer to Corbett buffer zone
3 nights and 3 days in Corbett NP.
Transfer to Vangat
2 nights and 2 days in beautiful river valley in Corbett buffer zone.
Transfer back to Delhi for flight back to UK.
If you are interested in arranging an itinerary to North/North East India then please contact us and we can discuss your requirements.
Send India exclusive tour request
Vanghat Cottages and Camp
Visit the incredible Vangat campsite, a remote, beautiful camp situated in a lovely forested river valley, on the edge of Corbett NP. The camp is only accessible by 2 miles of walking. The valley is full of wildlife, the camp just blends into the natural environment. This is a magical place, I know as
I have visited the camp now on 5 different occasions!
Vanghat Cottages and Camp are situated on the Ramganga at the edge of Corbet Tiger Reserve (Uttaranchal, India), an exclusive accommodation option for those seeking absolute solitude.
The lodge offers awe-inspiring opportunities to wildlife enthusiasts and birders as well as those just looking for relaxing time amidst nature.
Opportunities to undertake jungle safaris with experienced naturalists. All of the images shown have been taken at the camp.
There are 5 spacious stone and thatch huts, which merge in with the environment but are clean and very comfortable, complete with verandas and splendid views of the wooded hills and river valley.
The lodge has been designed to provide a comfortable, welcoming and environmental stay.
The lodges have won the hearts of tourists serving mouth watering and Indian, Continental and Chinese food. Tea and coffee are available throughout the day.
Meals are served in a dining room that offers marvelous views of the dense forest all around.
Approach to isolated Vanghat Riverine Woods is on foot through pristine Sal forest hence verage fitness and walking shoes are vital.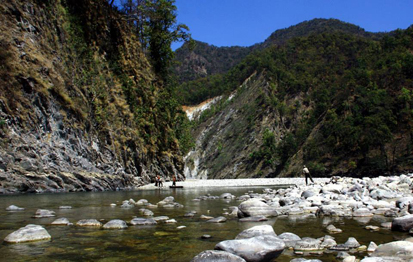 Vanghat Cottage accommodation and Tours
You can just stay at Vanghat and enjoy the amazing surroundings and wildlife! Arrange a 3-4 day stay and explore the beautiful birds, wildlife and tranquility. If you are more into an activity based stay, then we can integrate birding, butterfly, photography, angling and walking into your stay.
There are only 5 cottages at the camp, so peace and quiet are guaranteed. You will need to be able to walk around 2 miles over a hillside and river path, as this is the only access to the camp. You will be greeted at the start of the walk by porters from the camp and they will carry all your luggage and equipment to the camp. You will just enjoy a superb walk into the river valley!
There is an amazing raft crossing at the end of the walk to finally reach the camp. You will be given and required to wear a life jacket, just for safety precautions.
You will then walk a short distance around the river bend and the camp stands like a jewel in the hillside, it sympathetically blends naturally into it's surroundings.
The gardens of the camp feel like an extension of the wooded hillside, birds abound!
The 5 cottages are each set individually, within there are own setting. Each cottage has a bedroom area with a double bed, with an en-suite bathroom off the room.
Evenings are often spent by the campfire, you an enjoy the natural sounds, stars and the amazing night sky free from light pollution! Enjoy all of this with a drink or two.
At the camp, breakfast, lunches & evening meals are served in the communual dining area
The camp and surrounding area is rich with birds, regular and noteable species are Brown Dipper, Wallcreeper, Spotted and Little Forktail, Plumbous and White- capped Water Redstarts, several species of Wagtails The rich river habitat attracts Pallas' and the Lesser fish eagle at dusk.
The forest has White throated and White-crested laughing thrush, Common Green Magpie, Long-tailed Broadbill, Maroon Orioles, Blue winged Minla, Black Throated Tit, Grey headed canary Flycatcher, Chestnut bellied nuthatch and Scarlet Minivets. Plain backed and Scaly Thrush, Great Pied hornbills are seen as they fly over.
Based on Double room/2 person sharing a cottage with breakfast, lunch and dinner.
Price 2 nights/2 days stay is £100 per person
Price 3 nights/3 days stay is £140 per person
Price 4 nights/4 days stay is £180 per person
You can choose to add any range of activities, birding, wildlife and photography should be requested ideally beforehand as we will need to arrange guides.
If you are interested in arranging a visit to Vanghat or a North/North East India itinerary then please contact us and we can discuss your requirements.
Send request for Vanghat Camp stay