SCOTTISH HIGHLANDS BIRDWATCHING TRIP REPORT MARCH 25th-1st APRIL 2023
Tour leader Chris Mills
Participants:- Paul Bascombe, Peter & Viv Chapman, Dave Nicholls, Francois Trudel, Jenny Wilson & Barbara York
TOUR OVERVIEW
The tour was based at the fantastic and dedicated birding accommodation provided by the Grant Arms Hotel in Grantowon-on-Spey. The rooms were warm, spacious & comfortable, the breakfasts and evening meals excellent, including catering for specific dietary requirements. We were also surrounded many other keen birders, so there was also the opportunity to share and gain birding information each evening.
The tour offered a good overview of the specialist Highland species, and this year we had a nice tour, especially for the raptors. We saw many of the iconic Scottish Highland species, Crested Tit, Osprey, Black Grouse, Slavonian Grebe,breeding plumage Red-throated Diver, Crossbills, Scottish-type Crossbills, views of White-tailed Eagle, Golden Eagle, Goshawk and Peregrines were exceptional. Plus scarcer birds – Glaucous Gull, Ring-necked Duck and Waxwing.
Over the 7 days we recorded 114 species of birds.
White-tailed Eagle one of four seen during the tour
TOUR REPORT
Day 1 – Saturday 25th March Norfolk to Grantown-on-Spey, Highlands.
I collected four of the group from two central locations in Nottinghamshire, the rest of the group we met up in the Highlands.
We arrived mid-afternoon to the south of the Highlands and made our first proper birding stop to look for Black Grouse sometimes visible close to the main A9. There was no sign on this occasion, though they were present when we made the return journey!
We did note several Buzzard & Red Kite during our journey into the Highlands. Further north on the A9, as we reached the southern Cairngorms we made a stop in a lay-by. We were soon watching our first Red Grouse, also plenty of Meadow Pipits were flight displaying and we also chanced on a distant soaring immature Golden Eagle!
We collected Paul in Aviemore, and we had just enough time to pop into the Boat of Garten Golf course, where a single Waxwing was still showing nicely perched in the nearby trees, alerting us to its presence with its 'trilling' call!
On the way to the Hotel there was a lovely flock of around 2000 Pink-footed Geese in the fields, also Grey Heron, Little Grebe, Tufted Duck and Goldeneye on the small Loch at Boat of Garten.
We arrived at the Grant Arms around 5.15pm and met up with Peter and Vivien who had arrived via Inverness. We had a lovely evening meal and we were all in bed early after long journeys!
Overnight – Evening meal and drinks at the Grant Arms.
Day 2 – Sunday 26th March.
The weather forecast wasn't great for our first full day, with strong winds and showers forecast! There was littler point in an early start, and we met for a 730am breakfast and then planned to head up to the North Coast.
We headed towards Fraserburgh, where the recent Ross's Gull was being seen intermittently and I knew we would see some other nice birds, whilst being able to shelter from the promised sleet and snow showers!
We made our first proper stop in the beautiful, wooded river valley at Bridge-end on the River Avon. We had lovely views of a pair of Grey Wagtails, also Mistle Thrush, Song Thrush, several Coal Tit, Goldcrest, Greenfinch, Goldfinch and Siskin.
As we headed into Aberdeenshire, near Oldtown of Ord we reached several fields left in stubble and we stopped abruptly for a nice group of Yellowhammers perched in the roadside hedgerows. We decided to explore the field edge as there were also other flocks of birds moving around in the field. There was a good flock of Linnets, but it was also great to see a small group of about a dozen Corn Buntings! They took off from close by but disappeared into the distant stubble, we managed to get another view of the Corn Buntings again in flight after walking across to where they had landed, plenty of Skylarks several singing, plus a pair of Ravens flew over and a pure looking Hooded Crow was nearby in the fields.
We arrived late morning at Fraserburgh and set up on the headland, eventually managing to find a spot out of the gusting and very chilly NE wind! Over the next couple of hours we dodged the snow flurries and showers and enjoyed a steady passage of seabirds moving mainly West along the coast. Gannets were streaming by in small groups, many close inshore, along with groups of Razorbills, Kittiwakes with smaller numbers of Guillemots and Fulmars. There was a couple of Red-throated Divers. Lots of Shag including one very odd leucistic bird!Also smaller numbers of Cormorants and some small rafts of Eider, with Rock Pipits, Curlew, Oystercatcher and Redshank feeding in amongst the rocky shoreline. Also a group of 4 Purple Sandpipers flew past us.
We possibly missed the Ross's Gull in between one of the rather more intense snowstorms, as it was reported flying West, but it was no shame in the tricky conditions.
After lunch with no further sign of the Ross's Gull, I decided to head to Portsoy, we stopped off briefly on the way at the River Deveron estuary, there was a good flock of roosting gulls, Herring, Great-black-backed, Common, Black-headed and we added our first Lesser black-backed but nothing scarcer. Though there was more Eider, several Goldeneye and a nice group of 3 Goosander.
We had more of the same at Portsoy, but a closer Red-throated Diver on the sea, and some nice close Eider in the harbour. It was still bitingly cold, and we took refuge in a lovely little café in the harbour area, hot chocolates, coffee, teas and cakes were enjoyed alongside a good thaw out in the warmth.
Overnight – Evening meal and drinks at the Grant Arms.
Gannets passing West along the shore at Fraserburgh
This Waxwing showed well at Boat of Garten
A (British) Petrosus Rock pipit – plentiful along the North Highlands Coast
Day 3 Monday 27th March – Carrbridge Wood, Boat of Garten & Cairngorm
Today was in stark contrast to yesterday, blue skies, light winds, with a hard frost.
So pre-breakfast at 6.15am, we headed to an area of forest I had visited before. We walked quietly up the track and were soon watching our first 'Crossbills' (sp.)! We eventually had excellent views at close range of female Crossbill, this bird looking and sounded most like a Common Crossbill. Then further up the track, the first calls of a distant Crested Tit, after a prolonged period of searching it eventually appeared much closer and we had good views of it as it perched in the tops of the pines. We then had a second and third Crested Tit further up the track, before we left the main wooded area and headed into a boggy clearing. Here we alsofound a single Red Kite, Long-tailed Tit, 1-2 Lesser Redpoll, Greenfinch, Chaffinch, Goldcrest, Siskin, Treecreeper, Mistle Thrush, Song Thrush, and quite a few displaying Meadow Pipits.
As we walked back down the track we had 2-3 more Crossbills, but nothing perched close enough analyse! We did though come across another pair of Crested Tits, this pair showed really well, and we were also treated to some display as they sat up on the top of the pines, calling.
After a hearty breakfast, we headed for Cairngorm. We stopped off in Boat of Garten, to check the small Loch in the village, as I scanned the ducks, a striking female bird with an eye-ring and face patch was located, it was a female a Ring-necked Duck one of a pair that have been in the area for the last few weeks, though it hadn't been reported from here in recent days so it was a nice surprise!
We then reached Cairngorm Upper car park, as is expected these days on a bright sunny, fine day it was busy! Snow Buntings were in the parking area, there was around 20+ Snow Bunting, a lovely sight.
The group then split into two parties those that were happy to walk up to the top and those that preferred to take a break in the café area.
I walked up with the group electing to head up towards the area just below Cairngorm on the Northern Corries path. En-route our walk produced views of Meadow Pipit and Raven. After about hours walk, we were higher up and approaching a more suitable area for Ptarmigan. We then branched off into the boulder scree and started searching. The weather was good, and there was very little wind, but I couldn't hear any Ptarmigan calling. I eventually left the group to search for an hour in big circle amongst the most suitable areas, but despite lots of searching in the area where I had managed to locate two three weeks previously, I couldn't find any. It was disappointing, but sadly a sign of the reduced numbers now in this area. We had still enjoyed amazing scenery in a snow-covered landscape! Our consolation prize came on the way back down, in the form of a superb White-tailed Eagle which was soaring over the top of the mountain and then steadily dropping lower and heading along the ridge. A quick call to the rest of the group and I was relieved to hear they were already watching the White-tailed Eagle, though they also had failed to see any Ptarmigan from the top café.
We had coffees and then headed down the mountain, we decided to stop off at Loch Morlich, particularly as the mountains were a lovely mirror image in the Loch. The stop though proved to be good for birds too, as there was a beautiful breeding plumage Red-throated Diver, which was stunning on the mirrored water. Also several Goldeneye, a Goosander and Babs also spotted 3 Whooper Swans on the far shoreline.
On the way back we dropped back in at Boat of Garten, so that Viv & Peter could catch up with the Waxwing they had missed on day one, the Waxwing was still present and sat in nearby trees. We also had another look at the female Ring-necked Duck which was still present, but now sat roosting. There was Little Grebe, Tufted Duck, Goldeneye, Teal all on the small Loch. Plus, a very vocal Water Rail, that frustratingly refused to reveal itself, also a singing Chiff-chaff.
Overnight – Evening meal and drinks at the Grant Arms.
Crested Tit we managed to see 5 on the second day of the tour
Several transient flocks of over a 1000 Pink-footed Geese were seen
Red-throated Diver in breeding plumage – a joy to see!
Day 4 – Tuesday 28th March. Dulnain Bridge, Curr Wood, Dorback Road, Lochindorb & Dulsie Bridge area
We headed out after breakfast and started with a search up and down the river for Dipper. After a bit of searching a pair of Dipper were located, giving nice views from the banks of the Spey. We then headed to Curr Wood, always a good area to look for Crossbills! It took some time to locate Crossbills even at a site where I have previously seen flock of 30-40 birds! Eventually we located around 5-6 Crossbills and got good views of both male and females, one adult male proving to have a slightly different call with a more intermediate bill size, presumably a Scottish 'type' Crossbill. There were small groups of Siskin in this area, 1-2 Lesser Redpoll, Long-tailed tit, Goldcrest, also nice views of Treecreeper. Also noted were Bullfinch, Great Spotted Woodpecker and a daytime calling Tawny Owl.
It was now close to lunch and so we headed to the South of Nethy Bridge, exploring the open moorland areas at the East end of the Cairngorms. We were treated to an exciting couple of hours of manly raptors, with the biggest surprise being superb views of a pair of Goshawks, plus a Sparrowhawk, several Buzzards, Red Kite, plus a distant White-tailed Eagle. The Goshawks, were mobbed twice by a pair of Ravens, giving an amazing display! As we left the area, there was a small group of Fieldfare and Redwing plus 2 Mistle Thrushes.
The weather had closed in a bit now, and I decided to head towards Lochindorb, where we could search the Loch and shores from the minibus. There was no sign of any Divers, but nice views of Goldeneye, Oystercatcher and very close views of Red Grouse, plus Stonechat. We then drove towards Dulsie Bridge, we had a perched Snipe and a large feeding flock of c500 Pink-footed Geese, several Buzzards but no Harriers.
Red Grouse – a particularly confiding bird at Lochindorb

Dipper a pair along the river at Dulnain Bridge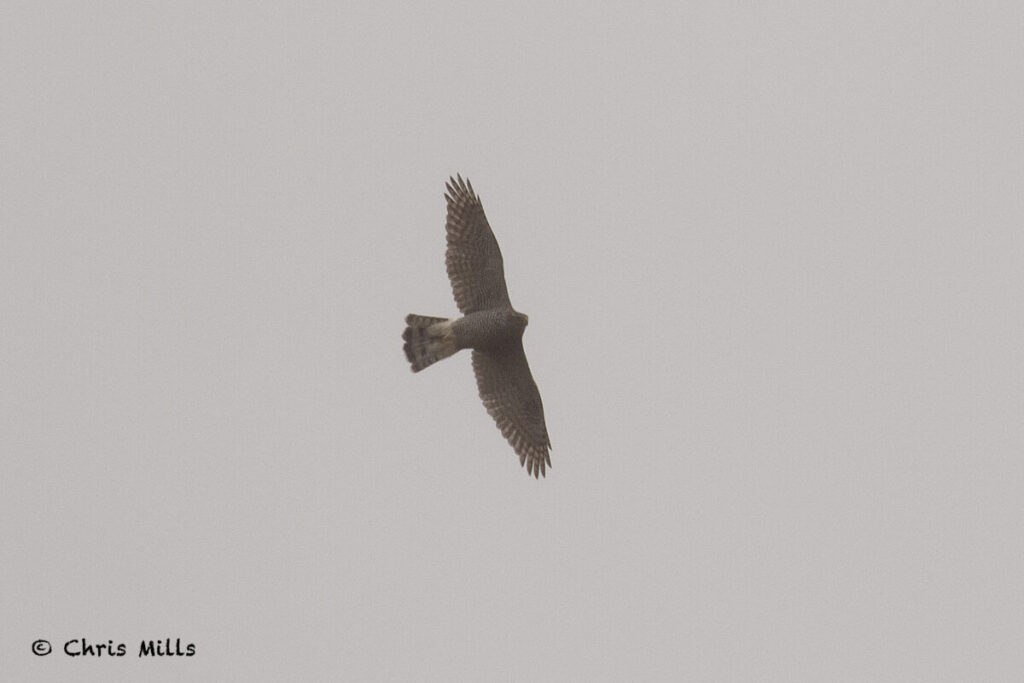 A male Goshawk, they were seen repeatedly during the trip!
Crossbill ID – a complete headache to separate nowadays!
A putative male Scottish Crossbill!?
Day 5 – Wednesday 29th March. Lossiemouth, Burghead & Findhorn Bay.
We started the day with pre-breakfast birding, departing at 6.45am, we arrived at our vantage point just after 7am, fortunately the drizzle and mist wasn't lying over the Black Grouse lek! Over the next hour we watched and listened to 9 male Black Grouse displaying and kettling, the lovely sight and sound of these birds always a great thrill to watch, as they gave us the full foam bath experience!
After another filling breakfast we headed to Lossiemouth and on arrival we scanned the Eastern area of the estuarine area, checking all the gulls, there was no sign of the Glaucous Gull at this time! But plenty of birds with roosting Wigeon, Teal, a very smart drake Red-breasted merganser, Redshank, Curlew, Oystercatcher and Curlews, also 1-2 Bar-tailed Godwit feeding amongst the masses and nice close views of Rock Pipit. We now headed round to the North and West side of the headland, 1-2 Red-throated Diver plus small numbers of Kittiwakes, Razorbills & Guillemot on the sea, plus a nice group of Turnstone and a lovely flock of around 40 Purple Sandpipers.
We then headed back to the estuary area on the East side of the harbour and we were pleased to see a lot more gulls had arrived to roost and preen. After a couple of scans, I was pretty sure I could see the Glaucous Gull distantly. So we drove down further and then walked towards the area. It was indeed the 2cy Glaucous Gull, an obvious pale individual, its huge size also making it easy to pick out amongst the amassed big gulls.
We now headed to Burghead, the East side of the headland, gave us a nice raft of 40 Eider, a few Common Scoter and a couple of close inshore Long-tailed Duck showing very well. Off the North end of the headland there was a 2 Red-throated Diver, a single Great Northern Diver on the sea and a few 7-8 Common Scoter, c40 Long-tailed Duck were distantly offshore. There was quite a few Turnstone, Curlew and out in the bay on the shoreline there was also a few Sanderling and a party of Ringed Plover.
We then headed off to Findhorn bay, we stopped off to check the mudflats on arrival. There was good numbers of c60 Redshank, Curlew, Turnstone, Oystercatcher and a Peregrine caused a panic as they all took to the air! There was quite a few Shelduck, plus a scattering of Pink-footed Geese mixed in amongst a few Greylag Geese.
We rounded off the day with a look offshore, similar mix of species to the previous headlands, but 6 Red-breasted Mergansers and 4 Sandwich Terns were the early arrivals this far North!
There was 9 male Black Grouse at the lek this morning!
Eiders roosting in one of the harbours on the North Coast
A stunning drake Red-breasted Merganser at Lossiemouth
A lovely drake Eurasian Wigeon at Lossiemouth
A rather tame Grey Heron at Lossiemouth
Day 6 – Thursday 30th March. Findhorn Valley, Loch Ruthven & Carrbridge
After breakfast we headed up to the beautiful Findhorn Valley, well known for its raptor viewing credentials.
Our first vigil from 8.45 to 11.00, halfway down the valley proved fruitful, with 4+ Buzzards, 4+ Kestrels, a Sparrowhawk and surprisingly our 3rd and 4th Goshawks, clearly this species is also increasing in this region too! Though we were still lacking the much sought after Golden Eagle! We did add 4 Sand Martins as they moved down the valley and Redpolls and Siskin regularly flew overhead.
At around 11am I decided we should move to the end of the valley. We pulled up at around 11.15 and within minutes of arrival 2 Ravens flew overhead, but more importantly their alarm calls and direct flight suggested they had seen something we hadn't! Seconds later a young Golden Eagle, appeared just above the ridge, giving us good views. Amazingly almost like buses, three more Golden Eagles appeared! Circling together, before heading West along the ridgeline, and then unbelievably a 6th Golden Eagle appeared high above the valley, this one attacked and mobbed by a pair of Peregrines! We literally gone from one brief sighting of Golden Eagles, to six more over a thirty-minute period, stood in one spot!
In the valley there was lots of song flighting Meadow Pipits, and a Wheatear was eventually seen, singing from the crags on the hillside.
Satisfied with our haul of raptors, we now headed to Loch Ruthven. Arriving there early afternoon in good conditions, we were soon feasting our eyes on a stunning breeding plumaged Slavonian Grebe, there were three birds present and we were treated to one displaying as it ran along the Loch surface on tiptoes, with head held high! Also added to the trip was a Reed Bunting near the car park.
We decided to head back South and pulled up in Carrbridge with just enough time for afternoon coffee and cake in the local café. We then headed down to Station Road, to look for Golden Plover, we had just scanned and picked out some Curlew and Lapwing, when Jenny shouted to look up! A Golden Eagle was just above us, nice views, and shortly followed by another! We were still enjoying the views of the 2 Golden Eagle, when a White-tailed Eagle appeared, again relatively low down, also joined by a second White-tailed Eagle, we were having a blessed day for Eagles!
This sub-adult Golden Eagle appeared almost as we arrived at Carrbridge
Followed minutes later by this adult White-tailed Eagle
Day 7 – Friday 31st March. Feshiebridge, Loch Insh, Lower Cairngorm & Dorback
Our last full day of birding started dry and bright, so we had an early breakfast and headed for Feshiebridge and the forest. We had quite a long circular walk, though it proved fairly quiet, with just 2-3 flyover Crossbills, a few Siskin, Treecreeper, Coal Tits, Goldcrests and a Great Spotted Woodpecker.
The main highlight was our 10th Golden Eagle of the trip, mobbed by Ravens as it soared along the ridge, a brief Peregrine along there too!
We then headed out to an Osprey breeding locality, where a pair have historically bred. On arrival, we were fortunate as the female Osprey was perched in the nest tree and were able to get nice scope views as it fed on a fish it had already caught. Out on the Loch, Barbara picked out another stunning breeding plumage Red-throated Diver, sat on the beautiful flat water, along with a male Goosander and Goldeneye.
There was also an obliging Treecreeper, Siskin and Lesser Redpoll.
We then headed to a local Café for last day coffee and cake! We sat outside in the warm sunshine and were treated to flight views of the Osprey as it circled overhead.
We then headed up to Cairngorm as there had been a Ring Ouzel earlier, but as we arrived it was clouding up and a chilly easterly breeze had gotten up, there was no sound or sign of the Ring Ouzel, though a Wheatear was singing high up in the rocks.
We then headed out to th Dorback road, where patience paid dividends yet again with the raptors, a Golden Eagle high soaring across the far hillsides, also good views here of 2 Goshawks, a Sparrowhawk, plus several Buzzards. Nearby a few of the last Redwing and Fieldfare.
Osprey – the female resting having just arrived back!
Day 8 – Saturday 13th – Return to Nottingham and Norfolk.
We left Grantown at 7.45am. There was one more sighting of note 5 Black Grouse seen from the minibus at a location where I had seen them several times before.
The journey went well with everyone dropped off by 3.30pm in Nottingham at junction 25 and I arrived back in mid Norfolk at 6.15pm.


Birds recorded
Over the week 114 species were recorded by the group, but most memorable will be the Black Grouse lek, White-tailed eagle, Golden Eagle, good views of Crested Tit and Crossbills plus Scottish type Crossbills. Wonderful views of Osprey, and of course the stunning breeding plumage Red-throated Divers and Slavonian Grebe, plus Long-tailed Duck.Not to be forgotten was the scarce/rare birds Glaucous Gull, Waxwing and Ring-necked Ducks!
Systematic list of birds recorded
| | | | |
| --- | --- | --- | --- |
| 1 | Red-throated Diver | 58 | Great Black-backed Gull |
| 2 | Great Northern Diver | 59 | Glaucous Gull |
| 3 | Little Grebe | 60 | Black-legged Kittiwake |
| 4 | Slavonian Grebe | 61 | Sandwich Tern |
| 5 | Northern Fulmar | 62 | Guillemot |
| 6 | Northern Gannet | 63 | Razorbill |
| 7 | Great Cormorant | 64 | Rock Dove/Feral |
| 8 | European Shag | 65 | Wood Pigeon |
| 9 | Little Egret | 66 | Collared Dove |
| 10 | Grey Heron | 67 | Tawny Owl |
| 11 | Mute Swan | 68 | Great Spotted Woodpecker |
| 12 | Whooper Swan | 69 | Sky Lark |
| 13 | Greylag Goose | 70 | Sand Martin |
| 14 | Pink-footed Goose | 71 | Meadow Pipit |
| 15 | Common Shelduck | 72 | Rock Pipit |
| 16 | Eurasian Wigeon | 73 | Grey Wagtail |
| 17 | Eurasian Teal | 74 | Pied Wagtail |
| 18 | Mallard | 75 | Dipper |
| 19 | Northern Shoveler | 76 | Wren |
| 20 | Tufted Duck | 77 | Dunnock |
| 21 | Ring-necked Duck | 78 | European Robin |
| 22 | Common Eider | 79 | Stonechat |
| 23 | Long-tailed Duck | 80 | Northern Wheatear |
| 24 | Common Scoter | 81 | Common Blackbird |
| 25 | Common Goldeneye | 82 | Song Thrush |
| 26 | Red-breasted Merganser | 83 | Mistle Thrush |
| 27 | Goosander | 84 | Fieldfare |
| 28 | Red Kite | 85 | Redwing |
| 29 | White-tailed Eagle | 86 | Common Chiffchaff |
| 30 | Goshawk | 87 | Goldcrest |
| 31 | Eurasian Sparrowhawk | 88 | Crested Tit |
| 32 | Common Buzzard | 89 | Coal Tit |
| 33 | Golden Eagle | 90 | Blue Tit |
| 34 | Osprey | 91 | Great Tit |
| 35 | Common Kestrel | 92 | Treecreeper |
| 36 | Peregrine Falcon | 93 | Magpie |
| 37 | Red Grouse | 94 | Jackdaw |
| 38 | Black Grouse | 95 | Rook |
| 39 | Red-legged Partridge | 96 | Carrion Crow |
| 40 | Pheasant | 97 | Hooded Crow |
| 41 | Moorhen | 98 | Common Raven |
| 42 | Water Rail | 99 | Waxwing |
| 43 | Eurasian Oystercatcher | 100 | Common Starling |
| 44 | Ringed Plover | 101 | House Sparrow |
| 45 | Golden Plover | 102 | Chaffinch |
| 46 | Lapwing | 103 | Greenfinch |
| 47 | Sanderling | 104 | Goldfinch |
| 48 | Snipe | 105 | Siskin |
| 49 | Bar-tailed Godwit | 106 | Linnet |
| 50 | Eurasian Curlew | 107 | Lesser Redpoll |
| 51 | Redshank | 108 | Common Crossbill |
| 52 | Turnstone | 109 | Scottish Crossbill |
| 53 | Purple Sandpiper | 110 | Bullfinch |
| 54 | Black-headed Gull | 111 | Snow Bunting |
| 55 | Common Gull | 112 | Yellowhammer |
| 56 | Lesser Black-backed Gull | 113 | Reed Bunting |
| 57 | Herring Gull | 114 | Corn Bunting |
If you are interested in joining a future Highlands 2024 tour please contact us for details.
07876 357677