8th-10th April Group 3 Day Tour
8th April – Day One of three 
We started the day at Burnham Overy in clear blue skies and a light chilly NW Wind. There was instantly lots to look at! The Grazing marsh held good numbers of Curlew, plus small numbers of the last Teal, Wigeon and Shoveler. In the channels there were more likely breeding wildfowl with Common Pochard, Tufted Duck and Little Grebe. From The reedy fringes came the explosive notes of a Cetti's Warbler, unusually it chose to perch out in the open and showed well on and off perching on top of the brambles. Even more surprising we're a pair of Bearded Tits sitting along just a thin line of reeds, sitting right out then working up to the top and giving fabulous prolonged views! Nearby a Chiff-chaff sang and showed well along with two Reed Buntings. 

The salt-marsh hosted a nice group of shorebirds lots of Redshank, and small groups of Dunlin, Grey Plover, Bar and Black-tailed Godwits, numerous Avocet plus a few Turnstone. Out in the open water there was a nice flock of Dark-bellied Brent plus a lovely pair of Red-breasted Merganser.
As we walked along a single then a group of three Spoonbills flew overhead and further along we were treated continuously to two breeding plumage Great Egrets, with dark bills and almost orange legs! Several Red Kites, a kettle of 6 Buzzards and 3 Marsh harriers vied for our attention.
Out in the dunes, there was good numbers of Meadow Pipits, plus a group of Linnets plus a pair of Stonechats. 

As we wandered the dunes a Sand Martin passed West, shortly followed by a Swallow.
We then took the rerun walk back and had lunch on the Staithe bank, the distinctive'wok' call of a Mediterranean Gull had us dropping sandwiches as it passed overhead. 
We then headed to Holkham and just had an hour around the fields and parking area, lovely views of Snipe and eventually great views of a pair of Grey Partridge also the last few Pink-footed Geese still present. 
We rounded the day off at Cley, where a pair of Garganey gave truly amazing views, less than 3m from the hide, gliding past the hide and providing several repeat performances! Also here 8 Ruff alongside a mix of commoner waders, including 20 Black-tailed Godwit and another Mediterranean Gull flew over. 
Great first day with 79 sp. Recorded.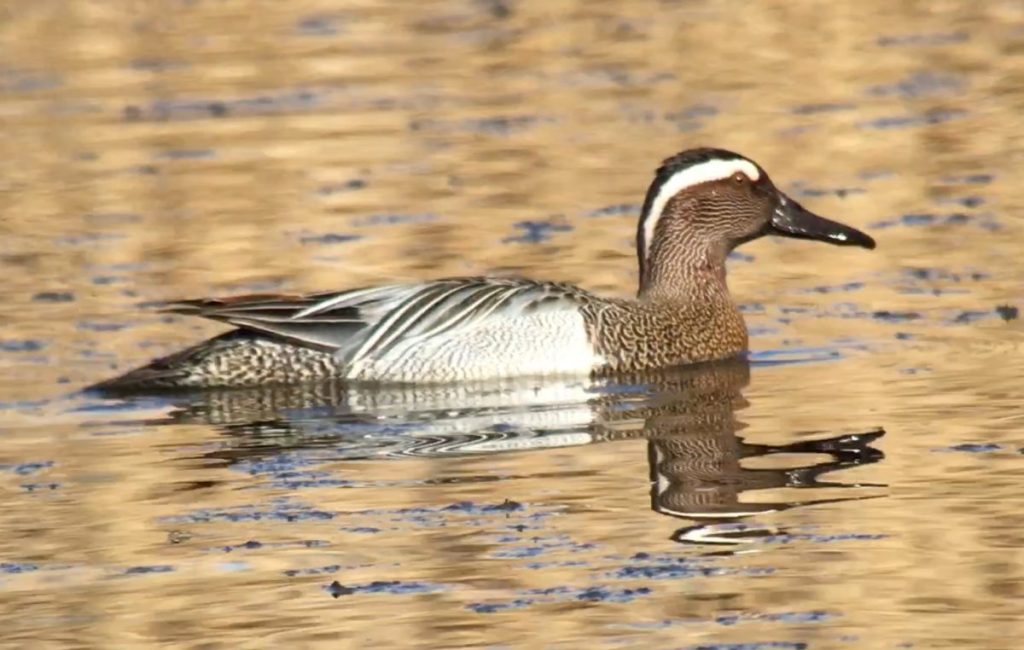 Day Two – 9th April 2022
We headed down to the Brecks today in more fine sunshine but with a cold NE breeze and a frost. Almost the first birds were 2 singing Woodlarks, duetting above our heads, then perched in nearby bushes. Not too much further on we came to a small copse filled with around 20+ Brambling and 10 Lesser Redpoll, a fine male Redpoll with a beautiful pink flush sat out on the top of the bush. Nearby a Cetti's called a pair of Stonechat were in show and both Reed Bunting & Yellowhammer gave views. 
We walked along the river and were soon watching a lovely pair of Mandarin, plus several Nuthatch were calling and showing. Then a Treecreeper plus a pair of Marsh Tits, after a short while the sought after Lesser Spotted Woodpecker appeared albeit it was a little brief and it soon disappeared. We waited for some time but didn't hear or see it again.

We then headed back and were treated to lovely close views of Woodlark just a few metres away as it fed along the ground. Also a Nuthatch nest, the hole filled with mud! 
We then headed off and stopped off at a stoney field where I had seen Stone Curlew earlier in the week, both Stone Curlew were still present and we quietly watched them from distance with the scopes.
Next we headed to a raptor watchpoint where over the next couple of hours we had 10+ Buzzard, Red Kite and up to 4 Sparrowhawks, but it looks like Goshawk season is over as no luck with them. Nearby there was a small flock of late Fieldfare.

We rounded off the day with lovely views of a pair of Firecrest, plus another male feeding low down, also plenty of Siskin around, though Chaffinch and Brambling numbers considerably lower at Lynford now. The roosting Tawny Owl was still present and easy to see today, nice scope views. A smart Grey wagtail was watched feeding just before we left.
Day Three – 10th April 2022
We set out for Norfolk coast today, another dry day & fine blue skies. A slight dilemma as the long staying White-tailed Plover present in Yorkshire and more recently Lincolnshire had been refound at Ken Hill near Snettisham. We decided to play it cool and First stop was Blakeney Quay where the long staying Red-breasted Goose was still being seen with the Brent geese. On arrival there was a couple of hundred Brents, but initial scan didn't produce the Red-breasted Goose. After about fifteen minutes I heard it's now familiar call (it's been calling regularly during its stay!) and the Red-breasted Goose was suddenly in full view and quite close! Superb views with great light as you can see from this short video! 

We had a short walk and there was plenty more to see, the highlights though were a Swallow and two Grey Partridge.
We then headed to Burnham Norton where we walked the grazing marsh and seawall, a Cetti's shouted and showed briefly, whilst the Marsh Harriers were almost and constant view with a male showing off sky dancing for a good while. On the ground there was 2 Ruff, Black-tailed Godwit, 30 Curlew, c100 Dark-bellied Brents, lots of dancing and displaying Redshank & Lapwing. A Bittern was booming and was heard several times, but it stayed put out of view! Amongst the Avocets, a few Dunlin we also found a Little Ringed Plover the first of the year for me!
The news was that the White-tailed Lapwing was still present so we had lunch and then headed there. It was a wall of around 1.2 miles along the inner sea wall, and there was a small group of birdwatchers still watching it. It was reasonable views through the scope and the White-tailed Plover eventually came into clear view, we admired it for a good hour and had a nice selection of other wading birds. A great way to end the tour!